U.S. Home Prices Rise at Fastest Pace in 31 Months U.S. home prices rose in January at their fastest rate since mid-2014, a trend that bodes well for sellers but could start to eat into demand as buyers get priced out of the market.
The S&P CoreLogic Case-Shiller Indices, which cover the entire nation, rose 5.9% in the 12 months ended in January, the strongest increase in 31 months, up from a 5.7% year-over-year increase in December.

The 10-city index gained 5.1% over the year, up from 4.8% the prior month, and the 20-city index gained 5.7%, up from a 5.5% increase. (…)

After seasonal adjustment, the national index rose 0.6% month-over-month, while both the 10-city and 20-city indexes rose 0.9%. (…)

Wages are rising at about 2.5%, much slower than home prices. (…)

Seattle led the way in January with a 11.3% home-price increase, while Portland reported a 9.7% year-over-year gain and Denver had a 9.2% annual increase.

The Conference Board Consumer Confidence Index for March strengthened 8.2% (30.7% y/y) to 125.6, the highest level since December 2000.

The rise in confidence reflected a 9.5% gain (36.1% y/y) in the expectations reading to 113.8 from 103.9. The present situation reading increased 6.5% (24.5% y/y) to 143.1 from 134.4.

The percentage of respondents indicating that business conditions are "good" strengthened to 30.7%, while those saying business conditions are "bad" fell to 12.9%. Respondents stating that jobs are "plentiful" surged to 31.7%, the highest percentage since August 2001, while those claiming jobs are "hard to get" eased to 19.5%. This change in views on labor market conditions led to a strengthened labor market differential (a reliable indicator of the unemployment rate) of 12.2 percentage points, which also was the highest level since 2001.

The percentage expecting business conditions to improve over the next six months surged to a roughly fourteen year high of 27.1%. For labor markets, the percentage expecting more jobs in the months ahead rose to 24.8% and surpassed its 1983 peak. The percentage of consumers expecting their incomes strengthened to 21.5% and equaled the recent high in December. (…)

The rise in the headline confidence index was paced by greatly improved optimism amongst individuals over age 55. Confidence amongst individuals aged 35-to-54 also strengthened. Respondents under age 35 registered a rise in confidence that remained slightly below the recent high.
Bespoke provides more granularity:
HARD OR SOFT?
Lance Roberts illustrates the gap that has built up between consumer confidence and hard data on the economy. Such dichotomy only occurred in 1999-2000 and in 2007.
There is little doubt that since the election both investor and consumer confidence has soared. In fact, confidence (soft data) has become extremely detached from the actual activity (hard data) within the economy. Historically, this deviation has not lasted long, and it has always been 'hope' giving up ground to the underlying 'reality.' But nonetheless, it is 'hope,' which is more commonly known as 'animal spirits,' which drives markets higher in late stage market advances.
So far, higher confidence has not triggered higher spending:
Consumer sentiment on job availability now points to an unemployment rate that is below 4%. Amazing.
Source: @jbjakobsen via The Daily Shot
This National Restaurant Association chart displays the same dichotomy between current hard data and operators expectations:
The Current Situation Index, which measures current trends in four industry indicators (same-store sales, traffic, labor and capital expenditures), stood at 98.6 in January – down 0.9 percent from a level of 99.5 in December. January represented the fourth consecutive month in which the Current Situation Index stood below 100, as same-store sales and customer traffic levels remained soft.
Eating out is probably the most discretionary spending decision for the average American. This next chart shows the recent sharp slowdown which is even worse when considering the inflation component. Real sales growth is now barely positive …
…while customer traffic is getting weaker and weaker; in fact, traffic is almost back to the 2008 lows! Talk about hard data!
Bloomberg Briefs did the deconstructing for us:
The accompanying chart strips out the survey data subcomponent of the Bloomberg Economic Surprise Index, creating a hard economic data surprise index, which remains close to neutral. At the same time, the survey based data index, which has surged since November, is showing signs of peaking.
Meanwhile, here's a hard soft survey:
Republicans' Tough Call on Taxes: Quick, Short Yardage or Hail Mary? After their loss on the health law, GOP leaders are weighing two options for accelerating changes to the tax code. Also on the table: working with Democrats.
(…) They have three main options: A fast-track plan that would yield quick action this year but limit how aggressively they can cut corporate and individual rates; a slower path to a more ambitious rewrite of the tax system that risks another nasty intraparty fight; and working with Democrats.

Party leadership is looking carefully at the first approach but hasn't made a decision yet, and each choice has clear benefits and drawbacks. (…)

Reconciliation bills can only be triggered if the House and Senate agree on a budget blueprint that sets out the parameters for their decisions. Such a blueprint was written in January for 2017, but it was written specifically with the health legislation in mind and it leaves Republicans with at least $450 billion less than they had planned. Using it as the scaffolding for a tax overhaul would thus leave Republicans less room to lower tax rates as much as they want. (…)
From The Daily Shot:
(…) And now, given that the repeal of the Affordable Care Act is off the table — and with it the $1 trillion in tax cuts over the next 10 years that the administration needed to help make its tax plan deficit neutral — there is a good chance that any tax package would include a corporate rate that is even further from Mr. Trump's initial pledge, perhaps as high as 28 percent.

Don't take my word for it. That's the figure that Grover Norquist, the anti-tax activist who is the president of Americans for Tax Reform, and who has long sought the lowest rate possible, has calculated would be needed for the plan to be deficit neutral after 10 years. That way it could come under the heading of budget reconciliation, which would allow the Senate to pass legislation with a simple majority.

If the 28 percent corporate tax rate sounds familiar, that's because it is: It was the same rate that President Barack Obama proposed in 2012 and again in 2013, when he also proposed to lower the tax rate for United States manufacturers to 25 percent. He made the proposal again in 2014, 2015 and 2016. Each time, his tax plan was summarily dismissed by Republicans who called the rate too high and uncompetitive. (…)
BTW, the effective tax rate for the S&P 500—based on the last three years of data to smooth out some noise in profitability—was approximately 27.7%, whereas the effective tax rate for small caps was almost 32%. (TAXATION MATTERS)
Another survey!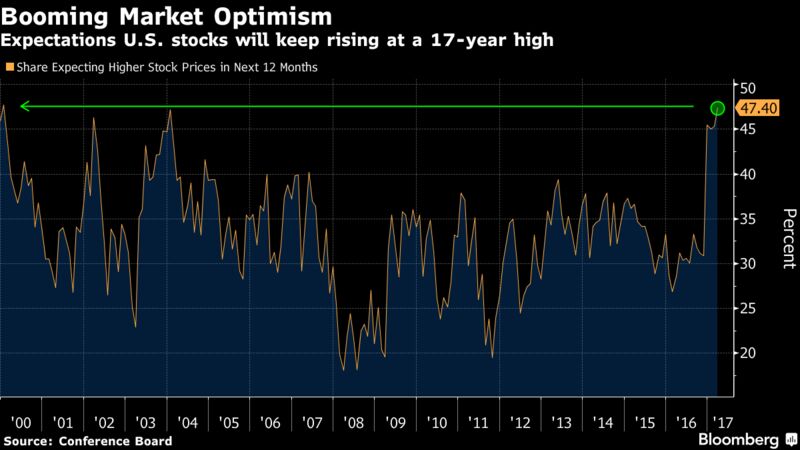 If you enjoyed this article, Get email updates (It's Free)