(…) Illinois Tool Works Inc. will close an auto-parts plant in Mazon, Illinois, this month and head to Ciudad Juarez. Triumph Group Inc. is reducing the Spokane, Washington, workforce that makes fiber-composite parts for Boeing Co. aircraft and moving production to Zacatecas and Baja California. TE Connectivity Ltd. is shuttering a pressure-sensor plant in Pennsauken, New Jersey, in favor of a facility in Hermosillo. (…)

The pressure to reduce costs is that relentless.

"When you dissect the worst-case scenarios, it still makes sense to go forward with their business plans," he said. "It's a competitive world."
Merrill Lynch: "You can't build a wall to keep the robots out."
Source: BofAML, @joshdigga (via The Daily Shot)
Markit has a positive spin on China's economy:
The upturn in the Chinese economy lost some momentum at the end of the first quarter, but forward-looking indicators suggest that the slowdown is likely to be temporary (…) [mainly because] new order growth for the first quarter rose to a four-year high, with manufacturing export sales returning to growth after more than two years of largely declining, supported by the depreciation in the yuan and strengthening demand in key markets.
I would not bet the farm on that:
The composite PMI is at the top of its range since 2011 and there are no meaningful stimulus at this time.
It took a 13% devaluation of the renimbi to move new export orders back up. However, world economies, primarily the USA and Europe, are not strong enough to expect a surge in demand for Chinese goods.
Exports orders have increased but the trend remains down as the two main ultimate consumers for Chinese goods are growing very, very slowly.
Exports now only account for 20% of China's GDP from 35% in 2005. Nevertheless, the transition from an export-led economy to on driven by domestic demand remains far from complete as consumer spending is a low 37% of GDP.
The onus thus remains on the government sector but there is a limit to overcapacity, ghost cities and bridges to nowhere:
Three more charts to try to convince you…
…to subscribe to this more likely trend:
Following up on yesterday's post: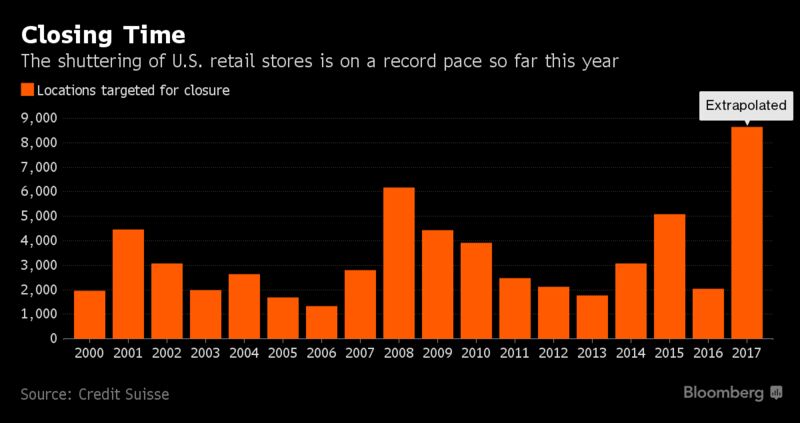 (…) Old hands in the markets like to say that one year in seven investors worry about balance sheets, rather than profit. It has been eight years since that last applied, but as the Federal Reserve starts to discuss running down its own balance sheet, it's a good time to think about corporate indebtedness again.

Companies have been loading up on debt based on two assumptions, shared by investors: that economic growth will be slow, and it will be steady. This is the perfect environment for leverage, as low growth keeps interest rates low relative to inflation, while the expectation of steady growth means few worry about a bad year interrupting repayments.

The danger is that either assumption proves wrong, and the focus shifts back from profit to balance sheet. Such a shift could be ugly, because there is so much more debt than usual being piled up by companies outside the finance sector: The ratio of debt to operating cash flow of the highest-quality U.S. companies is just slightly down from a record reached last year, Morgan Stanley calculates. Given leverage has in the past jumped in recessions, this is particularly unusual.

Rather than expanding overall profit, companies have been boosting the return to shareholders by replacing equity with debt—a zero-sum transfer which cannot be repeated indefinitely. (…)

Today's market is different from both 2000 and 2007. Equities are expensive, but still look relatively cheaper compared with debt on widely used models which compare bond yields to the "earnings yield," forecast earnings as a percentage of share price. CFOs like to issue whatever investors will pay the most for, and at the moment that is debt, so companies have been selling debt to buy back shares. (…)
U.S. Leveraged loan issuance hit a record $202 billion, from $121 billion in 4Q16 and $91 billion in 1Q16. (…)
If you enjoyed this article, Get email updates (It's Free)