Total retail sales and spending at restaurants fell 0.2% (5.2% y/y) in March following a 0.3% decrease in February; that was revised from +0.1% reported initially. The Action Economics Forecast Survey anticipated that March sales would be unchanged.

Sales at motor vehicles & parts dealers dropped 1.2% in March (+5.6% y/y) after a 1.5% fall in February, which was revised from a 0.2% decrease. Separate data show that unit sales of light vehicles dropped 5.4% in March. Excluding motor vehicles, retail sales were unchanged in March (5.4% y/y) and had also been unchanged in February (…).

Retail sales excluding both auto dealers & gas stations edged higher 0.1% in March (4.1% y/y), the same size move as in February.
Control Sales excludes Motor Vehicles & Parts, Gasoline, Building Materials as well as Food Services & Drinking Places and is the series that goes into GDP:
It looks like the consumer went on strike after Christmas. Total retail sales are down 0.5% (-3.0% a.r.) in February and March while non-auto less gasoline are up only 0.2% (+1.2% a.r.) in nominal dollars.
"Thankfully", inflation was also down in the February-March period, –0.2% for total inflation and –0.3% for core goods inflation. Real retail sales were thus down 0.4% MoM in February but rose 0.1% in March.
(…)consumer confidence surveys show widespread optimism that bigger paychecks are on the horizon. (Bloomberg)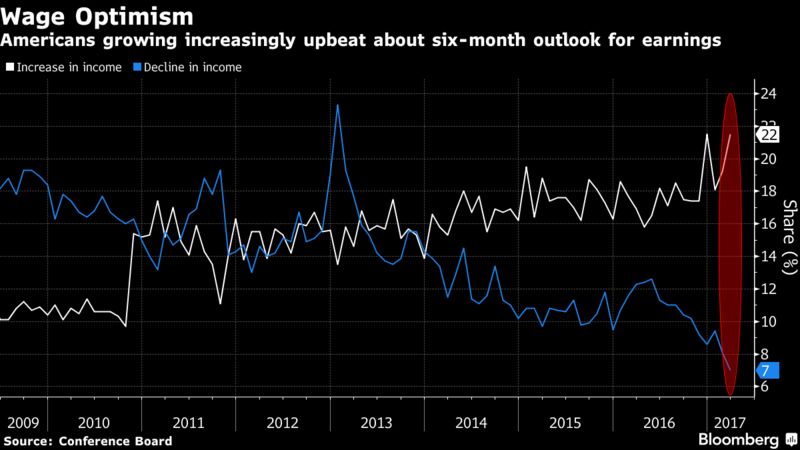 China Posts Best Quarterly Growth Figure Since 2015 Higher growth returned to China as policies to stimulate the economy gathered steam even as Beijing juggled measures to rein in financial risk. But the second half of the year is expected to bring a slowdown.
China reported growth of 6.9% in the first quarter, its fastest pace since the third quarter of 2015, fueled by credit and infrastructure spending as well as a stubbornly booming property market.

The pace was a notch up from the 6.8% expansion in the previous quarter and puts China well ahead of its annual target of about 6.5% growth. (…)

March data was roundly better than expected. Value-added industrial output, a rough proxy for economic growth, expanded 7.6% from a year earlier, accelerating from a 6.3% increase in the first two months of 2017. Retail sales surged a surprising 10.9% in March from a year earlier, from a 9.5% increase in February.

Electricity consumption and rail freight—viewed by many economists as more reliable indicators of demand than China's headline gross domestic product figure—also posted strong increases in the first quarter. (…)

Investment in buildings, factories and other fixed assets grew 9.2% in the first quarter, speeding up from the 8.9% expansion in the first two months. Even though home-sales growth slowed slightly, construction starts rose 11.6% for the full January to March period, up from 10.4% in the first two months, suggesting a strong pickup in March. (…) Property sales in the first quarter rose by more than 20%. (…)

Fiscal spending rose by more than 20% in the first quarter, though after years of debt-fueled investing in bridges, highways and high-speed rail lines, such stimulus is becoming less productive for growth, economists say, given that many of the best projects have been completed. (…)
EARNINGS WATCH
To date, 6% of the companies in the S&P 500 have reported actual results for Q1 2017. In terms of earnings, more companies (76%) are reporting actual EPS above estimates compared to the 5-year average.

In aggregate, companies are reporting earnings that are 6.7% above expectations. This surprise percentage is above the 1-year (+4.3%) average and above the 5-year (+4.1%) average.

In terms of sales, more companies (59%) are reporting actual sales above estimates compared to the 5-year average. In aggregate, companies are reporting sales that are 0.2% above estimates, which is also above the 5-year average.

The blended (combines actual results for companies that have reported and estimated results for companies that have yet to report) year-over-year earnings growth rate for Q1 2017 is 9.2% today, which is slightly higher than the earnings growth rate of 9.0% last week.

If Energy is excluded, the blended earnings growth rate for the remaining ten sectors would fall to 5.5% from 9.2%

The blended sales growth rate for Q1 2017 is 7.1%.

In the Financials sector, the upside earnings surprises reported by JPMorgan Chase ($1.65 vs. $1.51), Citigroup ($1.35 vs. $1.23), and Wells Fargo ($1.00 vs. $0.96) were the largest contributors to the small increase in the overall earnings growth rate for the index during the past week. As a result, the blended earnings growth rate for the Financials sector increased to 16.4% from 14.0% during this period.
CASH ON THE SIDELINES
If there is an alleged "mountain of cash" on the sidelines, primed to drive the market even higher, as we hear so often on CNBC, how come the current cash level relative to overall stock market valuation is the lowest in 17 years (per Ned Davis Research)? (Evergreen/Gavekal)

From Ed Yardeni:
Not much cash and fully loaded:

The fully loaded gun with little dry powder helps explain Lowry's Research findings that
(…) the recent market stabilization has come more as a result of sellers retreating rather than buyers confidently wading back into the market. This leaves stocks vulnerable to short term corrections.
We shall see if this is the first such "short term correction"…The Q1 earnings season is off to a good start and inflation data were better in March.
Wall Street banker Cohn moving Trump toward moderate policies In a White House marked by infighting, top economic aide Gary Cohn, a Democrat and former Goldman Sachs banker, is muscling aside some of President Donald Trump's hard-right advisers to push more moderate, business-friendly economic policies.
(…) Cohn is a key administration link to business executives and White House sources say he will lead the charge for Trump on top domestic priorities such as tax reform, infrastructure and deregulation.

"Gary's singular focus is tax reform and he's working to try and get that done in 2017," said Orin Snyder, a partner at law firm Gibson Dunn and a long-time friend of Cohn.

"He is working to implement the president's twin goals of economic growth and job creation. The tax plan will also include a reduction in the corporate rate, but also tax relief for middle- and low-income Americans." (…)

A senior administration official said the White House has started from scratch on the tax plan and, while setting business tax cuts as the highest priority, is consulting with lawmakers, economists and business leaders before taking it to the Republican-led Congress.

Two administration officials said reports that the White House was considering a carbon tax and a value-added tax were incorrect, but that other ideas were on the table. "We are considering a multitude of options for tax reform," a White House official said on Sunday. (…)
This Is a Dangerous Time to Own Emerging-Market Stocks A crack is forming in the emerging-market resurgence as worries are setting in that the buying spree has resulted in lofty valuations amid escalating geopolitical tensions.
If you enjoyed this article, Get email updates (It's Free)