PEAK AUTOS?
Total sales of light vehicles increased 1.6% during April to 16.88 million units (SAAR), according to the Autodata Corporation. Despite the monthly rise, sales declined 3.0% y/y. During the first four months of 2017, sales averaged 17.17 millions units, 1.4% below the first four months of 2016.
Light truck sales increased 1.5% (1.2% y/y) versus March to 10.46 million. Imported light truck sales increased 14.1% (13.3% y/y) to 1.88 million units, a four-month high. Sales of domestically-made light trucks eased 0.8% (-1.1% y/y) to 8.58 million units. Trucks' share of the U.S. vehicle market was unchanged m/m at 62.0%, but increased from 59.4% twelve months earlier.
Passenger car sales improved 1.6% (-9.1% y/y) to 6.42 million units. Domestically-made passenger car sales increased 2.2% to 4.70 million units (-8.8% y/y), but remained near the lowest level since December 2011. Sales of imported passenger cars were flat (-9.9% y/y) at 1.73 million units.
Looks like demand cannot get beyond previous cyclical peaks (chart from CalculatedRisk); even light truck sales are rolling over:
On a per capita basis, we're on a secular downtrend (chart from Doug Short):
The combo of slow real income growth and tighter credit will always have the same effect:
A reader sent me this link to an IBD article suggesting that "wage gains have shifted into higher gear, as the daily data on taxes withheld from worker paychecks seem to indicate":
(…) Over the past 10 weeks through April 26, withheld taxes have surged 7.9% from a year ago, according to an IBD analysis of Treasury data that's adjusted for calendar effects.

Although it's a bit too early to definitively say that wage growth has accelerated in a big way, the tax data, along with Friday's Employment Cost Index report from the Labor Department and anecdotal company reports, suggest that investors should brace themselves for upside surprises in wage growth. (…)
Considering that the ranks of the employed are growing by less than 2% per year, a 7.9% rise in withheld taxes is consistent with something close to a 6% rise in wages, salaries, bonuses and other incentive pay. (…)
I could not verify the above data but personal current federal taxes paid surged 5.7% in Q1, obviously impeding disposable income. I suspect this mau be due to delays in tax refunds since there are really no other reasons from other official data: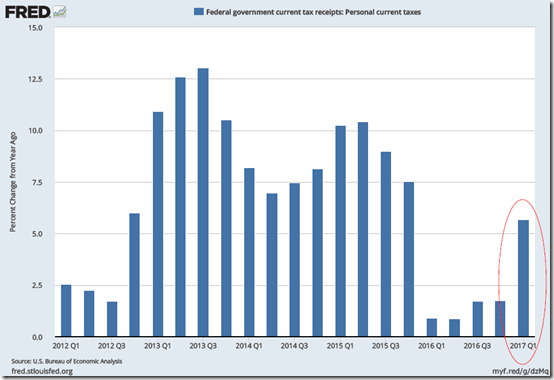 The seasonally adjusted Purchasing Managers' Index™ (PMI™) registered 50.3 in April, down from 51.2 in March to signal only a marginal improvement in overall operating conditions. Moreover, the latest upturn in the health of the sector was the weakest seen since last September.

Slower increases in output and new orders were key factors weighing on the headline index reading in April. Production growth softened for the second month running and rose only marginally overall. Total new business followed a similar trend, and rose at weakest pace since last September.

Softer growth in total new orders coincided with the slowest increase in new work from abroad in 2017 so far. While some companies indicated that new product launches contributed to higher new orders both at home and abroad, others commented that relatively muted customer demand had weighed on growth.

Manufacturers continued to reduce their workforce numbers at the start of the second quarter. Furthermore, the rate of payroll cuts was the fastest seen since January. According to anecdotal evidence, lower employment was due to cost-cutting initiatives as well as the nonreplacement
of voluntary leavers. This in turn contributed to a further increase in the level of work-in-hand (but not yet completed), though the rate of accumulation was modest.

Reflective of the trend for production, purchasing activity growth weakened to a marginal pace in April. At the same time, companies reported a renewed expansion in inventories of purchased items, albeit fractional. Stocks of finished goods were meanwhile depleted for the fourth successive month, with some firms mentioning the use of current stocks for satisfying new orders.

A shortage of some raw materials at vendors underpinned a further increase in average delivery times. That said, the extent to which lead times worsened remained marginal.

Cost pressures continued to ease in April, with the rate of input price inflation softening to a seven-month low. As a result, companies raised their prices charged at a modest rate that was the weakest since last August.

Looking ahead, companies generally expect output to increase over the next year. However, the degree of confidence was the lowest seen in 2017 so far and below the historical average.

More details via CEBM Research:
The earnings of the Shanghai Stock Exchange-listed companies seem to have stalled.

Source: @jsblokland, @LarryFeldmanNYC (via The Daily Shot)
The above coupled with this next chart are not equity markets friendly:

EARNINGS WATCH
Q1 nominal GDP rose 4.0% YoY which, according to RBC Capital's regression, should result in S&P 500 companies growing revenues by 4.0%.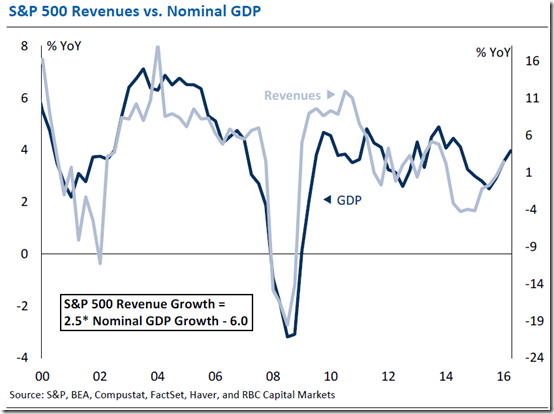 With 70% of S&P 500 companies having reported Q1 results, revenues are expected up 7.0% in total, +5.1% ex-Energy (+33.3%) and +4.5% ex-Financials (+9.1%). Excluding these 2 sectors temporarily benefitting for a weak base last year, revenue growth seems in line with expectations and correlate well with GDP growth.
The surprise is with EPS which are now seen up 14.4% YoY in Q1 (RBC Capital) with an unusually large 5.9% surprise. The real surprise is that the biggest surprises are coming from cyclical companies during a quarter when real GDP rose a very weak 1.9% YoY. Non-Financial cyclical companies are surprising by 8.3% so far with a 79% beat rate. While Energy companies are beating by 24.3%, Consumer Discretionary are beating by 11.1%, Industrials by 8.2% and IT by 5.5%. By comparison, Financials are beating by 5.8% and Non-Cyclicals by 2.8%.
Moreover, guidance for Q2 is well above Q1'17 and Q2'16 so far:
Based on Capital IQ data, Q1 operating margins for S&P 500 companies could reach 9.9%, up from 8.8% in Q1'16 and their highest levels in at least 10 years. Digging into sectors, I found that Materials and IT are the two sectors with very large gains in operating margins. Materials are particularly high at 10.6% from 3.8% last year, surprising considering that Materials companies are showing a very weak +0.2% gain in revenues per share in Q1 (IT +7.1%).
In all, overall Q1 earnings are quite spectacular but the details are troubling: 6 sectors are showing EPS growth below 4.0% and averaging +0.8%. These include important sectors such as Consumer Discretionary (+2.4%), Consumer Staples (+1.6%) and Industrials (+1.0%). Financials and IT show solid growth but the unusually high contribution from Energy and Materials is not sustainable and, in fact, could reverse if recent trends in U.S. and China manufacturing persist.
The earnings engine looks strong but the main cylinders are not performing well…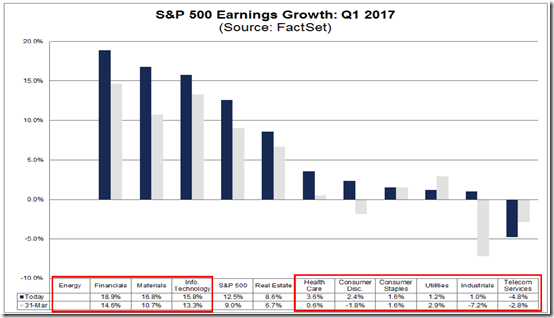 GOP Health-Bill Woes Signal Centrists' Rise Republicans' latest health-care effort teetered on the brink of collapse in the House, reflecting a new assertiveness by GOP centrists, a group that in recent years has rarely wielded such power.
(…) GOP leaders said late Tuesday they were still sewing up support for the bill, but the ranks of Republicans opposed or undecided on the bill swelled to numbers almost large enough to derail it. As of Tuesday, at least 21 House Republicans said they wouldn't support the legislation, with a similar number undecided.

House GOP leaders most likely can't lose more than 22 Republican votes to pass the health-care bill, which isn't expected to receive any Democratic support. (…)

The show of defiance suggested that GOP leaders may not be able to count on the cooperation of their centrist flank on upcoming bills that could prove just as thorny as the health measure, including the president's plan to overhaul the tax code. (…)
If you enjoyed this article, Get email updates (It's Free)