Hiring Expanded in April as Employers Added 211,000 Jobs The pace of hiring picked up again in April and the unemployment rate fell to the lowest level in nearly a decade, providing reassurance the broader economy is poised for a strong spring after a lackluster start to the year. The jobless rate fell to 4.4%; wages are up 2.5% on the year
The economy has added an average 185,000 jobs a month in 2017, roughly matching last year's pace.

The change in total nonfarm payroll employment for February was revised up from +219,000 to +232,000, and the change for March was revised down from +98,000 to +79,000. With these revisions, employment gains in February and March combined were 6,000 lower than previously reported.

The labor-force participation rate—or the share of Americans holding jobs or actively looking for work—fell a tenth of a percentage point to 62.9%.

Average wages grew 0.27%, in April from a month earlier.The average hourly earnings of private-sector workers grew 2.5% in the 12 months through April.

The average workweek for all employees on private nonfarm payrolls increased by 0.1 hour to 34.4 hours in April.

Nothing really "solid" in this report:
(…) there are some worrying signs that the recent slowdown could persist in coming months. First, inflows of new business softened further in April, growing at the weakest rate in seven months. Second, the renewed drop in employment suggests firms are cautious about the outlook. Finally, business optimism about the year ahead moderated to the lowest level in 2017 to date. In fact, the latest Future Output Index reading remained below its historical average.
Some more signs:
Bloomberg's broad commodity index hit the lowest level since last August.
China's Push to Stabilize Financial System Leaves Markets in Disarray A wave of regulations aimed at cutting risk in China's financial system are rippling through the country's markets and sending banks and companies scrambling for funds.
As I said a few weeks ago, rapidly rising interest rates in a credit bloated economy generally end badly:
(…) During the past month, Chinese shares have fallen nearly 5%, draining almost half a trillion dollars out of the country's markets. Bond yields have shot up to their highest levels in two years, and bond defaults hover at record levels. The uncertainty has also weighed on metals and commodity prices, already hurt by doubts around China's growth momentum. (…)

Such grey-area investments reached nearly 20 trillion yuan ($2.8 trillion) at the end of last year, says Fitch Ratings, or about 26% of China's gross domestic product in 2016, up from less than 10% three years earlier. They now represent an average of 19% of small and midsize banks' total assets, compared with about 1% for big state banks, according to Fitch. (…)

Banks' rush to scale back off-book investments and draw down new lending is draining liquidity from both markets and the overall economy, resulting in higher funding costs and a rise in defaults. (…)

In a sign that authorities are taking note of market stress, the central bank returned to injecting cash into the financial system last month after a period of withdrawing funds to steady the yuan's value and tamp down new borrowing. (…)

A lot of selling by banks so far has involved corporate bonds, the people said, which is sharply pushing up companies' funding costs. (…)

According to Fitch, total debt reached 258% of China's GDP last year, a ratio it expects will grow this year and next. (…)
This also generally does not end well:
(…) Strip out the boom-to-bust energy sector and median corporate leverage is the highest since at least 1980.

But the signs that the credit markets may be starting to get carried away are more in the structure of the deals than in the total amount lent. Not only are companies able to sell debt with very low yields, they are dictating the terms. Companies have extended the maturities of their bonds and loans, adding to their riskiness, even as the yields come down.

Investors are willing to lend against looser and looser definitions of operating profits, and lend more. Protective covenants have all but disappeared from the loan market, removing what was once regarded as a vital protection for investors. And there is anecdotal evidence of hedge funds not usually present in the market buying in, suggesting less informed investors are getting involved—perhaps drawn by the 24% return on U.S. junk bonds since the oil panic began to recede in February last year. (…)

"If everything goes right, we will be fine, we will get a very modest return for taking a high degree of risk."
EARNINGS WATCH
379 companies (83.2% of the S&P 500's market cap) have reported. Earnings are beating by 6.2%, with 76% of companies surpassing bottom-line estimates. Revenues are surprising by 0.7%.
Expectations are for revenue, earnings, and EPS growth of 7.1%, 13.2%, and 15.0%, respectively. EPS is on pace for 15.8%, assuming a typical beat rate for the remainder of the season.
Big earnings boost from Energy and Materials (11% of S&P 500 Index), Financials (15%) and IT (21%). The other seven sectors (54%), consumer-sensitive, are showing pretty weak earnings trends. (Table from RBC)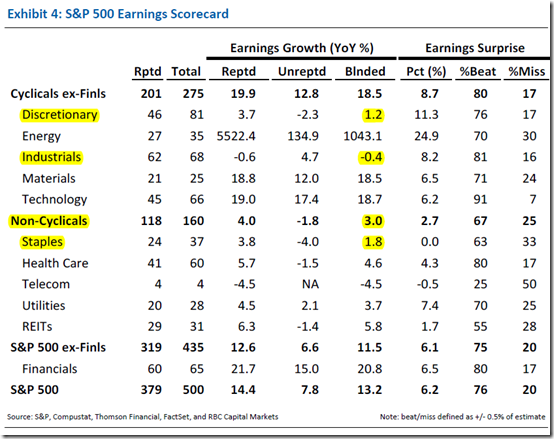 Today's payroll report continued this unsustainable dichotomy suggesting further pressures on the consumer side of things.
From The Economist:
The C919: ready for takeoff?
China's first home-made large passenger jet took off in Shanghai today. China's leaders will trumpet the test flight for the narrow-body passenger plane, made by state-run Comac, as a triumph of "indigenous innovation", challenging the global duopoly of America's Boeing and Europe's Airbus. But the celebrations are premature. For a start most of the complicated bits of kit, ranging from the engines and electronics to the fuel systems and landing gear, are made by foreign firms. Even though the trial flight was successful, many safety and regulatory challenges lie ahead. If the C919 manages to overcome those and come to market, it will still be years behind schedule. Boeing and Airbus are, meanwhile, leapfrogging ahead to the next generation of big jets with safety, efficiency and other advances. Chinese airlines, constrained by patriotism, may buy the new aircraft. Those able to choose freely probably won't.
From Bespoke Investment:
If you enjoyed this article, Get email updates (It's Free)