The National Federation of Independent Business reported that its Small Business Optimism Index eased to 104.5 during April from 104.7 in March. The index remained up 11.6% from the level of 93.6 April 2016.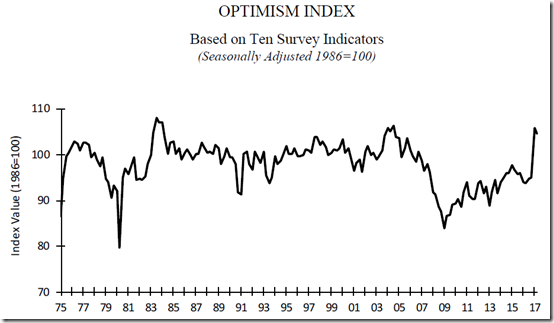 38% of firms reported that they were expecting the economy to improve, down sharply from the December high of 50%.
An improved 20% of respondents expected higher real sales while a greater 24% of firms reported that now was a good time to expand the business, the most since early-2005.
An improved 20% of firms expected higher real sales in six months, down from the February high of 26%.
Finding employees was difficult as a higher 48% of firms indicated they had few or no qualified candidates to fill job openings, up from 46% last April.
26% percent of firms had to raise worker compensation, up from 21% in November.
A stable 18% of firms planned to raise compensation in the next three months.
27% of firms were planning to make capital outlays in the next 3-to-6 months, down slightly from the expansion high of 29%.
7% of firms actually raised average selling prices last month, up from the one percent that lowered prices last April.
A greatly lessened 18% of businesses were planning to raise average selling prices, the least in six months.
"Expected sales" jumped immediately following the elections and "Actual sales" firmed up considerably beginning in January, surprising given the state of the economy.
Hiring plans and compensation also jumped right after the elections while price increases remained muted. Margin squeeze on the horizon if "expected sales" don't materialize…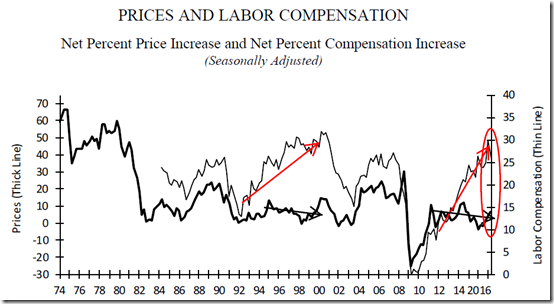 "Actual earnings" started to improve in December, reaching close to an all-time high for this survey…Hmmm…
The Bureau of Labor Statistics reported that the total job openings rate of 3.8% during March equaled February, but remained below July's peak of 4.0%. The private-sector job openings rate held steady at 4.0%, about where it's been for a year. In the government sector, the job openings rate improved m/m to 2.3%, the highest level since November.

The job openings rate in manufacturing jumped to 3.1%, the highest level since July. The rate in professional & business services rose to 5.1%, the highest level since October, but was down from the 6.1% high twelve months ago. The government sector job openings rate rose to 2.3%, a four month high. Elsewhere, job openings rates eased. (…) The job openings rate is the number of job openings on the last business day of the month as a percent of total employment plus job openings.

The actual number of job openings increased 1.1% (-1.9% y/y) to 5.743 million, but remained lower than the July high of 5.973 million. Private-sector openings improved 0.5% to 5.207 million, down 2.5% y/y. (…)

The total hires rate held steady m/m at 3.6% and remained down from the February 2016 high of 3.8%. The private-sector hiring rate was stable at 4.0%, still below the high of 4.2% reached last February. (…) The hires rate is the number of hires during the month divided by employment.

The number of hires improved 0.2% (-0.7% y/y) to 5.260 million. Private-sector hiring increased 0.5% (0.2% y/y). (…)
Actual openings and hires have been pretty flat during the last 15 months: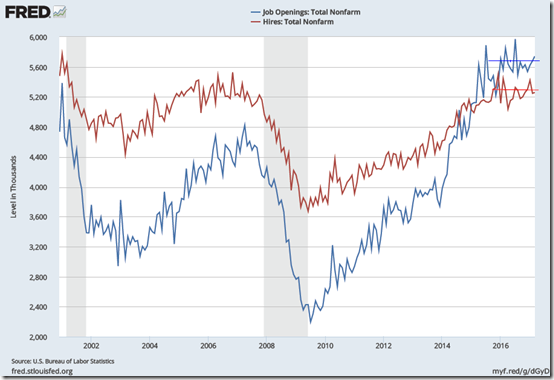 YoY, openings were down 1.9% while hires down 0.7%.
Is this a repeat of 2013?

Tight Labor Market Squeezes Seasonal Businesses Fewer visas for temporary foreign workers and low unemployment have conspired to send small hotels, restaurants and other resort businesses scurrying to find workers before the summer season.
Recent steps by Congress to temporarily lift the number of workers coming to the U.S. under temporary, or H-2B, visas could ease the pressure, but additional workers aren't likely to arrive before late June, at best. This has sent some small-business owners looking for key staff, others are pushing back opening day and boosting overtime. (…)
Applications surged this year because of the tight job market and because an exemption for returning workers expired on Sept. 30, after Congress declined to extend it amid concerns from labor unions and those opposed to foreign workers. That meant firms needed to request new visas for workers that had come to the U.S. under the program last year but were no longer in the country. (…)
Firms of all sizes have struggled to find needed workers, but the challenges are greatest for small businesses, which typically don't have human-resources staffs or locations in other states they can draw from. (…)
Other small-business owners complain the shortened application period makes it difficult to open on time. Joy McNulty, owner of The Lobster Pot Restaurant, estimates she lost about $350,000 in revenue because delays in getting H-2B employees on site forced her to postpone the opening of her Provincetown, Mass., eatery by five weeks.
"For 45 years now, I have opened my restaurant when I wanted to," she said, "except for the last two when the government told me when I could."

Trump's New Tax Plan Is a Mystery for the Middle Class President Donald Trump's one-page tax outline released in April is silent on essential details, including how the tax code will treat the personal exemption that reduces taxable income depending on family size.
The Trump administration says a middle-class tax cut is at the center of its tax plan. But doing the arithmetic to figure out what middle-class families would pay is close to impossible. (…)

It sets tax brackets of 10%, 25% and 35% without establishing the income levels that divide them. (…)

In the April plan, Mr. Trump proposed doubling the standard deduction, which would increase the amount of income shielded from taxes. However, the plan says nothing about how personal exemptions or head-of-household filing status would be treated, and the White House and Treasury declined to clarify. (…)

The personal exemption, which dates to the beginning of the modern income tax in 1913, is no minor detail. Because each person in the household gets one, it matters most to larger families. (…)
Nafta Revamp Is Slowed by Senate Maneuvering The U.S. won't be able to start renegotiating the Nafta trade deal until late summer at the earliest, as congressional delays bog down one of President Donald Trump's top priorities.
OECD Tempers Global Growth Expectations A significant pickup in global economic growth has become less likely this year as the outlooks for the U.S., U.K. and China dim, according to leading indicators released by the OECD.
The Paris-based research body's gauges of future activity, based on data for March, pointed to faster growth in Germany and Canada, but steady expansions in other large developed economies. They include the U.S. and the U.K., for which leading indicators were pointing to pickups as recently as February.

The leading indicators also pointed to steady growth for China, having previously pointed to an acceleration. Of the world's major economies, only India is set to see a turn for the better, since it is no longer likely to slow and should instead record steady growth. (…)
U.S. shale explorers are boosting drilling budgets 10 times faster than the rest of the world to harvest fields that register fat profits even with the recent drop in oil prices.

Flush with cash from a short-lived OPEC-led crude rally, North American drillers plan to lift their 2017 outlays by 32 percent to $84 billion, compared with just 3 percent for international projects, according to analysts at Barclays Plc. Much of the increase in spending is flowing into the Permian Basin, a sprawling, mile-thick accumulation of crude beneath Texas and New Mexico, where producers have been reaping double-digit returns even with oil commanding less than half what it did in 2014.

That's bad news for OPEC and its partners in a global campaign to crimp supplies and elevate prices. Wood Mackenzie Ltd. estimates that new spending will add 800,000 barrels of North American crude this year, equivalent to 44 percent of the reductions announced by the Saudi- and Russia-led group. (…)
LAST TEN WEEKS
We've changed a lot since we hit 2400 ten weeks ago. The five FAANG stocks are the new 1%, leaving 495 losers behind (John Alexander‏ @MacroCharting)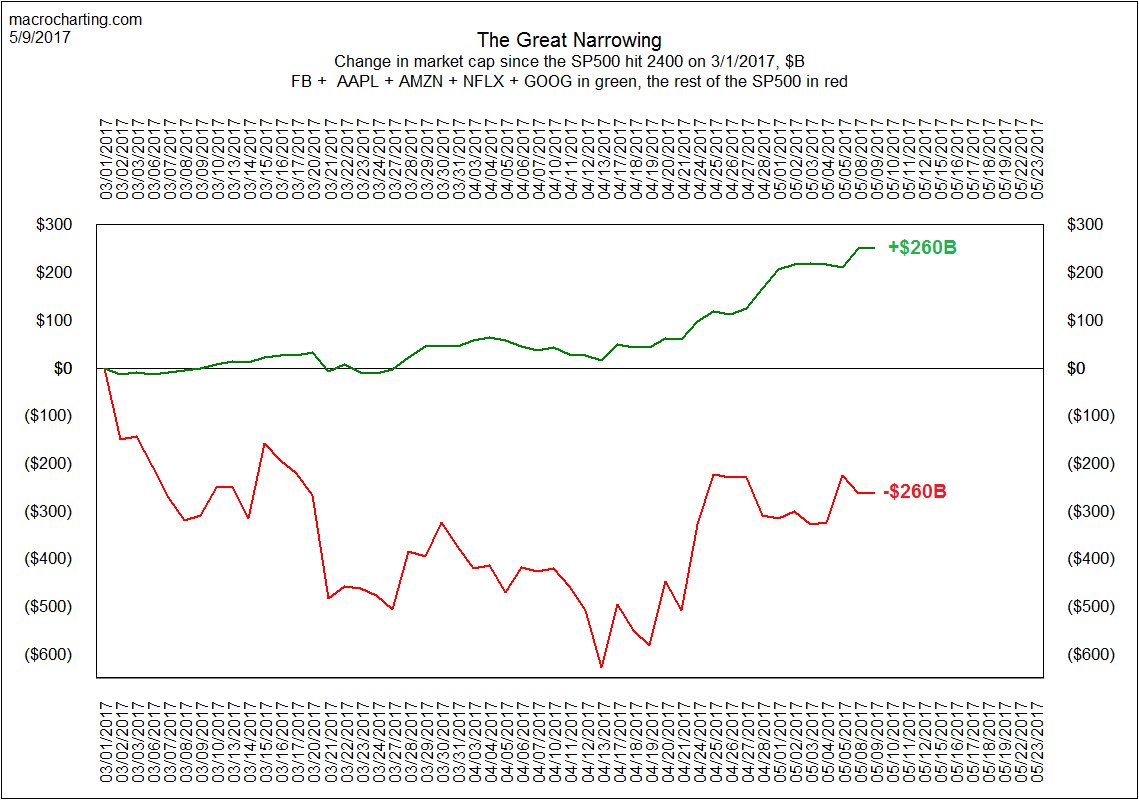 I wrote a lot more on this 3 days ago if you missed it: THE DAILY EDGE (8 May 2017)
If you enjoyed this article, Get email updates (It's Free)