Import prices increased 4.1% in April from a year earlier, the Labor Department said Wednesday. (…) Non-petroleum import prices, up 1.1% from a year earlier, experienced the largest yearly increase since March 2012, driven by rising costs for nonfuel industrial supplies, products such as building materials, metals and motor vehicles. (…)

A softer dollar, which is down 2.6% so far this year, could be one contributing factor.
Non-petroleum import prices last 3 months: +3.2% a.r. (chart from Haver Analytics).
Next Hot Housing Market: Starter Homes After sitting on the sidelines for a decade, millennials are buying homes en masse, promising to kick the already strong housing market into higher gear.
Virtually all major builders are migrating away from the luxury homes that dominated the early years of the economic expansion and are focusing on lower price points to cater to this burgeoning clientele.

"There's an increasing confidence level in that part of the market," said Gregg Nelson, co-founder of California home builder Trumark Cos. "The recovery is finally starting to take hold in a broader way."

The share of first-time buyers fell to 32% in 2015, its lowest level in nearly three decades and down from a historical average of around 40%, according to the National Association of Realtors. That number climbed back up to 35% last year. (…)

Some 854,000 new-owner households were formed during the first three months of the year, more than double the 365,000 new-renter households formed during the period, according to Census Bureau data. It was the first time in a decade that more households chose to own than rent compared with a year earlier, according to an analysis by home-tracker Trulia. (…)

In the first quarter of this year, 31% of the speculative homes built by major builders were smaller than 2,250 square feet, according to Zelman & Associates. That is up from 27% a year ago and 24% in the first quarter of 2015. (…)

Some 42% of the mortgages acquired by Fannie Mae so far this year were to first-time buyers, up from 31% at the recent low in 2011 and 38% in 2015. Fannie, which acquires about one-third of single-family mortgages, defines first-time buyers as anyone who hasn't owned a home in the past three years. (…)

Even Toll Brothers Inc., which typically builds homes for the top end of the market, is venturing into lower price points. In Houston, the company is building homes starting in the mid-$300,000s range, while a typical Toll home in the area costs around $850,000.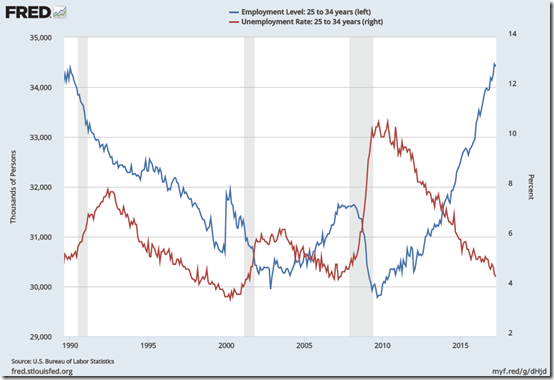 Finally, a breakout? (Chart from CalculatedRisk)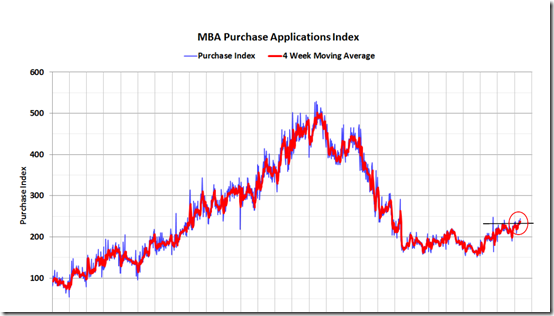 (…) Now, Chinese publicly listed firms are increasingly trying to boost their incomes by buying so-called wealth management products (WMPs). (…)

WMPs are higher-yield, short-term investments typically sold by commercial banks. In the 12 months ending Wednesday, 9,641 publicly traded companies listed on China's A-share market moved 887.2 billion yuan ($128.5 billion) of capital into such financial products, according to data compiled by Chinese financial information provider Wind. That was a whopping near-46% jump over the same year period ending May 10 of last year. (…)

WMPs have been especially attractive to companies in sectors such as manufacturing that are especially hard hit by financial slowdowns. Given the challenge of upgrading their business models during such times, companies look to WMPs to satisfy investors, said Dong Dengxin, a finance professor at Wuhan University of Science and Technology. (…)
Meanwhile:
Six of Canada's largest banks had credit ratings downgraded by Moody's Investors Service on concern that over-indebted consumers and high housing prices have left lenders vulnerable to potential losses on assets. (…)

In its statement, Moody's pointed to ballooning private-sector debt that amounted to 185 percent of Canada's gross domestic product at the end of last year. House prices have climbed despite efforts by policy makers, it said. And business credit has grown as well.

"We do note that the Canadian banks maintain strong buffers in terms of capital and liquidity," Moody's said. "However, the resilience of household balance sheets, and consequently bank portfolios, to a serious economic downturn has not been tested at these levels of private sector indebtedness." (…)
Trump Trade in U.S. Stocks Has Come and Gone: Canaccord
The "Trump trade" in U.S. stocks that was spurred by President Donald Trump's November election has come and gone, according to Tony Dwyer, Canaccord Genuity Group's chief market strategist. Dwyer compared a "pro-Trump" indicator of the S&P 500's financial, industrial, materials and energy indexes with an "anti-Trump" barometer, based on the benchmark's health-care and technology groups, in a report on May 10. The ratio between them climbed 16 percent between Sept. 27 and Dec. 8, a month after Election Day, and then gave back almost the entire gain. (Via Bloomberg Briefs)
Pension contributions are tax deductible, therefore it is cost-effective to take a 35% deduction at today's rate instead doing it later, if rates fall. DuPont decided to pump extra money into its pension fund to deduct as much from its taxes as it could, according to a person familiar with the plan.

On May 2, Delaware-based DuPont said it would put $2.7 billion more than required to its defined benefit plans this year. Its plans had a $6.7 billion deficit at the end of 2016, meaning the value of assets didn't equal the value of the company's obligations.

DuPont is among the first to use the prospect of tax cuts as a spur to rush pension contributions. More companies are expected to take similar steps in coming months as the tax debate in Washington heats up, according to Alan Glickstein, a retirement consultant at Willis Towers Watson. (…)
(…) H&M opened a net 16 new stores in the three months to Feb. 28, bringing its total number of U.S. stores to 484. Competitor Zara, the Inditex SA ITX -1.12% -owned fast-fashion chain, also continued to grow its American presence, opening a net 10 stores through 2016, bringing its U.S. total to 78 as of Jan. 31. (…)

Credit Suisse estimates retailers will close more than 8,600 locations around the U.S. this year, which would surpass the number of closings during the 2008 financial crisis. Already this year 19 retailers including Payless Inc. and RadioShack Corp. have filed for bankruptcy protection, compared with 18 in all of 2016, according to S&P Global Market Intelligence. (…)

After Eastern Outfitters LLC filed for bankruptcy, Sports Direct InternationalSPD -0.29% PLC last month swooped in to buy the Meriden, Conn.-based company's 50 Bob's Stores and Eastern Mountain Sports for $101 million. Sports Direct, the U.K.'s largest sports clothing and equipment chain, said the move would give it "a footprint in U.S. bricks-and-mortar retail." (…)

The Dublin-founded retailer, which will open its eighth U.S. store in June in Braintree, Mass., recently expanded its first U.S. store by 20% to about 93,000 square feet, saying awareness of the Primark brand had grown. (…)

Amsterdam-based Scotch & Soda has opened three to four new outlets every year since its first U.S. store appeared in New York City in August 2010. (…)

Reiss opened two stores in New York last year and earlier this year opened one store in Miami. Superdry, which has 20 stores in the U.S., is also accelerating its expansion. The British casual clothing brand plans to open five stores over the summer and five more in the fall.
If you enjoyed this article, Get email updates (It's Free)