The producer-price index for final demand, measuring changes in the prices that U.S. companies receive for their goods and services, increased 2.5% in April from a year earlier. The advance marked the index's steepest climb since February 2012, the Labor Department said Thursday.

Excluding often-volatile prices for food and energy, the index grew 1.9% in April from a year earlier. (…)

Producer prices in April increased a seasonally adjusted 0.5% from March. Prices on services, such as securities brokerages and investment advice, contributed heavily to April's gains. (…)
Jan-April: core PPI is up at 3.3% a.r.. (Chart from Haver Analytics)
CAR TALK
(…) By the end of 2019, an estimated 12 million low-mileage vehicles are coming off leases inked during a 2014-2016 spurt in new auto sales, according to estimates by Atlanta-based auto auction firm Manheim and Reuters. (…)

For a graphic showing leasing activity, see: [tmsnrt.rs/2pe1E2x] (…)
(The Daily Shot)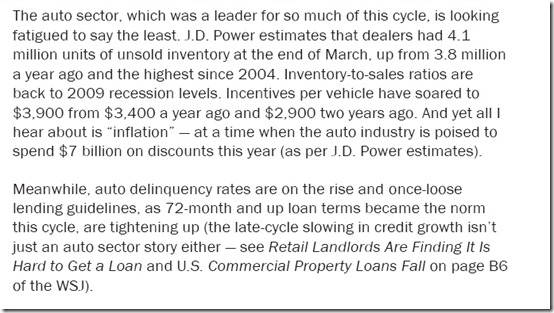 (David Rosenberg)
(WSJ)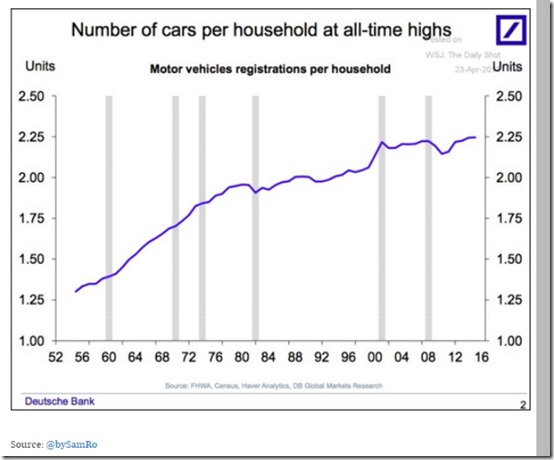 (Bloomberg Briefs)
Larger and possibly prolonged layoffs this year, stemming from recent sales weakness, may send net industry hiring lower and jobless claims higher in the coming weeks. The history suggests that when auto payrolls drop in July, they usually undershoot the 12-month moving average by 26,000 jobs. Growth in the sector's employment has been flat over the past year. BI Economics estimates the recent slowdown in auto sales could cost the industry at least 20,000 jobs. (BB)
Restaurants experienced a third consecutive month of negative same-store sales in April, with results essentially unchanged vs. March. Sales declined by -1.0 percent for the month, which is only a 0.1 percentage point improvement from March. This insight comes from data by TDn2K™ through The Restaurant Industry Snapshot™, based on weekly sales from over 27,000+ restaurant units and 155+ brands, representing $67 billion dollars in annual revenue.

Same-store traffic declined -3.3 percent during April, also a very modest improvement of 0.1 percentage points over March's results.

Through April, 2017 sales are down -1.5 percent vs. a -2.3 percent sales decline in the fourth quarter of last year. If sales remain at April levels for the balance of the second quarter, it would be the best quarterly performance in over a year.

(…) sales started softening considerably starting with June of last year. (…)

Staffing woes continue for the industry as hourly employee and restaurant management turnover rates continued to rise, according to the latest data from TDn2K's People Report™. While it may seem impossible for things to get any worse, restaurant operators continue to predict increasing recruiting difficulties for upcoming quarters based on the People Report Workforce Index.

Almost four out of every five restaurant terminations in 2016 were employees leaving their jobs voluntarily, and about 40 percent of all hourly employee terminations are within 90 days of hire. This obviously speaks to the tight labor market and increased competition for employees. (…)
German Growth Outpaces U.S. as Mild Weather Boosts Construction Germany's economy accelerated in the first quarter, led by a revival in global trade and buoyant construction activity, cementing its role driving Europe's economic upswing.
Germany's gross domestic product grew at a quarterly clip of 0.6%, or 2.4% in annualized terms, the Destatis statistics office said Friday. (…)

Destatis said mild winter weather contributed to a sharp rise in construction, while rising exports also helped lift first-quarter growth from an annualized 1.7% in the fourth quarter of 2016.

There were signs of a broadening in Germany's growth, which entered its eighth year. Investments in plant and machinery picked up in the course of the first quarter, Destatis said, and many economists forecast this trend will continue. (…)

Germany's acceleration was key to maintaining a steady pace of expansion in the wider eurozone, which grew at an annualized rate of 1.8% in the first quarter. But while milder weather boosted construction activity in Germany, it appears to have damped growth in other parts of the currency area at the start of the year.

Figures released by the European Union's statistics agency Friday showed industrial production fell for the second straight month in March, and was broadly flat during the first quarter. That was a surprise, and was largely due to a decline in energy output, which fell 3.2% in March from the previous month, after a 4.9% decline in February. (…)
China Bonds Send Fresh Stress Signal China's $1.7 trillion government-bond market is exhibiting a new sign of stress: The yield on longer-term debt has fallen below that on shorter-term debt—an anomaly that some traders blame on Beijing's efforts to reduce financial risk.
(…) Such a "yield-curve inversion" defies normal market logic that bonds requiring a longer commitment should compensate investors with a higher return. (…)

The answer seems to lie in Beijing's recent campaign to tamp down the burgeoning shadow-banking sector, whose growth is due in large part to so-called wealth-management products; the amount of such products outstanding has ballooned to $4.2 trillion in the first quarter of 2017, Moody's Investors Service says, which is more than a third of China's annual gross domestic product. (…)

"The inversion is a form of mispricing in the bond market," said Liu Dongliang, senior analyst at China Merchants Bank . "The fact that no one is taking the bargain despite the higher yield on the five-year bond just shows how depressed investors' mood is." (…)
Merge these 2 charts and you get 2 critical readings: much higher well productivity and much, much lower lifting costs in the U.S..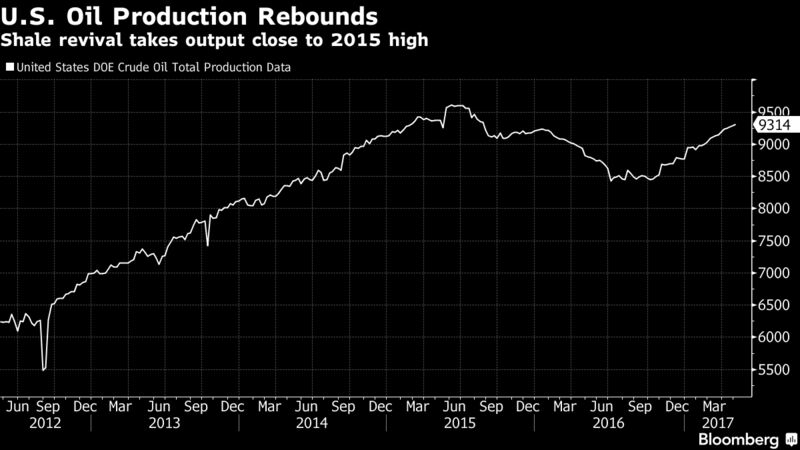 POLITICS
Not happy to write about politics but President Trump is such a key factor in financial markets that we must all keep track of what's going on in D.C..To me it's all about the President's credibility.
Yesterday morning, I read the WSJ's very favorable editorial on Trump's move on Comey. Then I read the WaPo's account of how things happened which did not fit quite along with the WSJ's viewpoint.
(…) Back at work Monday morning in Washington, Trump told Vice President Pence and several senior aides — Reince Priebus, Stephen K. Bannon and Donald McGahn, among others — that he was ready to move on Comey. First, though, he wanted to talk with Attorney General Jeff Sessions, his trusted confidant, and Deputy Attorney General Rod J. Rosenstein, to whom Comey reported directly. Trump summoned the two of them to the White House for a meeting, according to a person close to the White House.

The president already had decided to fire Comey, according to this person. But in the meeting, several White House officials said Trump gave Sessions and Rosenstein a directive: to explain in writing the case against Comey. (…)

The pair quickly fulfilled the boss's orders, and the next day Trump fired Comey — a breathtaking move that thrust a White House already accustomed to chaos into a new level of tumult, one that has legal as well as political consequences.

Rosenstein threatened to resign after the narrative emerging from the White House on Tuesday evening cast him as a prime mover of the decision to fire Comey and that the president acted only on his recommendation, said the person close to the White House, who spoke on the condition of anonymity because of the sensitivity of the matter. (…)
Rosenstein is a highly respected person in Washington. He was confirmed by Congress 94-6.
This morning, the White House and Trump had no choice but to transform the alt-facts into facts, essentially confirming the WaPo's account:
Trump Planned Comey's Firing Before Letter President Donald Trump, contradicting previous White House accounts, said he had planned to fire former FBI Director James Comey regardless of any advice from his Justice Department, because Mr. Comey was a "showboat."
(…) Mr. Rosenstein had been summoned Monday to the White House, where he discussed Mr. Comey's performance with the president. Mr. Trump asked Mr. Rosenstein to write a memo detailing his concerns about the director's conduct. (…)
(…) Mr. Rosenstein left the impression that he couldn't work in an environment where facts weren't accurately reported, the person said. The deputy attorney general objected to statements by White House aides citing Mr. Rosenstein's critical assessment of Mr.Comey's job performance to justify the firing. (…)

Mr. Rosenstein, who had been confirmed by the Senate just two weeks earlier, met with Mr. Trump on Monday, where they discussed Mr. Comey's job performance. At the White House's prompting, Mr. Rosenstein Tuesday wrote a memo to the president detailing his concerns about the director's conduct.

In that letter, Mr. Rosenstein never expressly recommended that Mr. Comey be fired. (…)

The president's termination letter to Mr. Comey, written on the same day, began by pointing to the memos he had received from the attorney general and deputy attorney general, and offered no further explanation for his decision to fire him. (…)

Asked if Mr. Trump had directed Mr. Rosenstein to write a recommendation that Mr. Comey be fired, she [Sarah Sanders, a White House spokeswoman] said, "No." (…)
Hmmm…
THANK YOU
I received numerous kind words re: yesterday's "This Time Seems Very, Very Different." Really?. Can't possibly personally reply to all of you but I very much appreciate your comments.
If you enjoyed this article, Get email updates (It's Free)