U.S. Retail Sales Improve Strongest sales gain in three months came with positive revisions to earlier data
Total retail sales and spending at restaurants increased 0.4% during April (4.5% y/y) following a 0.1% March gain, revised from -0.2% reported initially. Earlier figures also were revised. It was the strongest gain in three months. A 0.6% increase had been expected in the Action Economics Forecast Survey.

Sales at motor vehicle & parts dealerships increased 0.7% (4.4% y/y) after as 0.5% decline. The increase compares to a 1.6% gain (-3.0% y/y) in unit motor vehicle sales. Retail sales excluding autos increased 0.3% (4.5%) following a like increase during March, revised from 0.2%. A 0.4% rise had been expected.

Better but not great. Non-auto sales +0.8% in the last 3 months, +3.2% annualized vs +4.6% YoY in April. But goods inflation was negative (see below) so real sales are stronger. Real spending has been rising much faster than real earnings since October 2016 as consumer credit is increasing at a 6.0-6.5% YoY clip.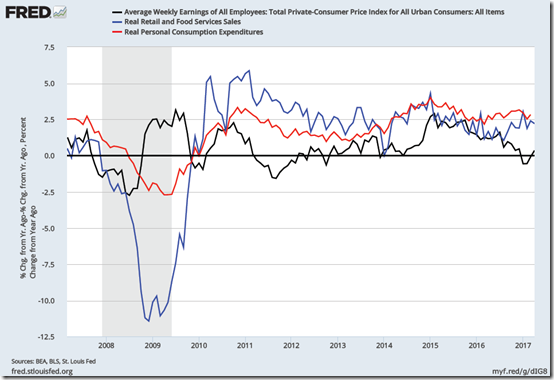 According to the University of Michigan latest consumer survey, consumers have the most favorable real income expectations in a dozen years. The recent rise in optimism, which saw a boost after President Donald Trump's election in November, reflects a turnaround from consumers' attitudes in October, when sentiment had matched a two-year low.
This President sure needs to make America great again.
The consumer-price index, which measures what Americans pay for everything from radishes to rent, advanced a seasonally adjusted 0.2% in April from the prior month, the Labor Department said Friday. Excluding the often volatile categories of food and energy, so-called core prices rose just 0.1% from March.

The annual increase in consumer prices slowed for the second straight month, with prices rising 2.2% in April from a year earlier. February's 2.8% annual increase was the largest in five years.

Prices excluding food and energy were up 1.9% on the year. It was the first time the annual gain in core prices had been below 2% since October 2015. (…) Food prices rose 0.2% last month, and were up 0.5% from a year earlier.

Shelter costs—which account for about a third of the overall price index—increased 0.3% on the month and rose 3.5% on the year in April.

Prices for cars, apparel and prescription drugs all fell last month.

A separate Labor Department report showed average weekly earnings for private-sector workers, adjusted for inflation, rose 0.4% in April from the prior month. From a year earlier, inflation-adjusted weekly earnings were up 0.3%. (…)
According to the Federal Reserve Bank of Cleveland, the median Consumer Price Index rose 0.1% (1.4% annualized rate) in April. The 16% trimmed-mean Consumer Price Index also rose 0.1% (1.0% annualized rate) during the month. Over the last 12 months, the median CPI rose 2.4%, the trimmed-mean CPI rose 2.0%, the CPI rose 2.2%, and the CPI less food and energy rose 1.9%.
There was, in effect, a big break in inflation trends after January. Core Goods prices are dropping hard: –3.0% annualized in last 2 months. Even prices of core Services are slowing, flat in last 2 months. Unless wages also slow down, margins are being squeezed.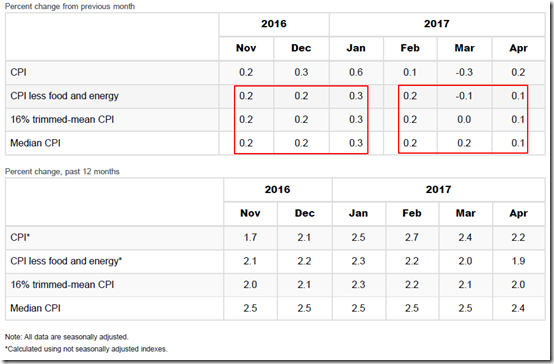 (Haver Analytics)
Big break? Long break in inflation? Let's look at some facts:
The inflation trends in the pipeline are mixed but still pointing to rising prices.
Final demand PPI was up 0.5% MoM in April (+2.5% YoY) and + 2.8% a.r. in last 3 months.
Core final demand PPI shows similar trends in the last 3 months.
That includes Trade Services PPI +0.9% in Jan., +0.4% MoM in Feb., -0.1% in March and -0.3% in April. Trade Services PPI measures profit margins at wholesale and retail ends and these are dropping fast.
Excluding declining margins, Core PPI rose 0.7% in April and is up +4.4% a.r. last 3 months (+2.1% YoY).
Core CPI-Services is flat in last 2 months but PPI-Services is +2.8% a.r. in last 3 months.
PPI Intermediate demand for processed goods rose 0.5% MoM in April (+5.4% YoY) and is +4.0% a.r. last 3 months.
Non-petroleum import prices are +3.2% a.r. last 3 months.
In all, inflation does not seem to be breaking down meaningfully. Median CPI is +2.0% a.r. last 3 months and inflation in the pipeline remains in the 2-3% range. As of May 12, the Cleveland Fed's Inflation Nowcast shows core CPI up 0.16% from April, a 2.0% annualized rate.
David Rosenberg argues that "there is no room for inflation to be sustained – Amazon is doing to the retail industry writ large what Wal-Mart started to do two decades ago." To prove his point, David refers us to the battered consumer-sensitive stocks as proof that there is no pricing power.
But pipeline inflation is real.

What should worry investors though is the recent compression in wholesale/retail margins as labor costs increase faster than inflation on sales. Core Goods PPI is +3.2% a.r. last 3 months, +2.3% YoY in April while core Goods CPI is –2.0% a.r. last 3 months, –0.6% YoY in April.

In the May 8 Daily Edge, I wrote""
In all, the writing is on the wall: unless the economy really cools off, the labor market is tight enough for wage pressures to intensify in 2017. The Employment Cost Index is now rising at a 3.5% annual rate in Q1 and the number of anecdotes about wage increases are mushrooming by the day.
I hope you appreciate when you read it here first…This was in Saturday's WSJ, 5 days later.
(…) To try to solve the labor shortage, growers have been increasing wages. Yeatman & Sons in January raised piece rates at one of its farms to $1 for every five-pound box of mushrooms from 82 cents for large mushrooms and 80 cents for medium.

Phillips Mushroom Farms recently upped the bonus harvesters get after picking 55 pounds in an hour from 11 cents a pound to 16 cents, said general manager Jim Angelucci. Good pickers, who start at $8.75 an hour, can collect 100 pounds an hour, he said, so the extra nickel can yield a $2.25 bump to $15.95 an hour. The change helped Phillips fill five jobs and resume full production, he said. (…)

Mushroom production (…) is year-round and indoors. Growers offer employees health and retirement benefits as well as paid vacation.

Even so, the pool of workers is tight—and has shrunk in recent months. Growers attribute this partly to the strong economy in Chester County, where unemployment fell to 3.5% in March. Another factor is fears over the Trump administration's crackdown on illegal immigration, which growers say has prompted some workers to leave the U.S.

The labor woes are dragging on production, which dropped 9% to 395 million pounds between the 2013-14 and 2015-16 growing seasons. Chester County's share of the U.S. market for Agaricus mushrooms, which include white button and Portobello varieties, fell to 43% from 49% over the same period, according to U.S. Department of Agriculture figures. (…)
China's retail sales, a key indicator of consumption, grew 10.7 percent year on year in April, 0.2 percentage points slower than the March level, official data showed Monday.

In the first four months, total retail sales of consumer goods rose 10.2 percent year on year, 0.2 percentage points faster than the growth in the first quarter, according to Xing Zhihong, a spokesperson with the NBS.

Consumption activities were relatively stronger in rural areas, with retail sales expanding 12.6 percent in April, outpacing urban areas, where retail sales climbed 10.4 percent year on year. (…)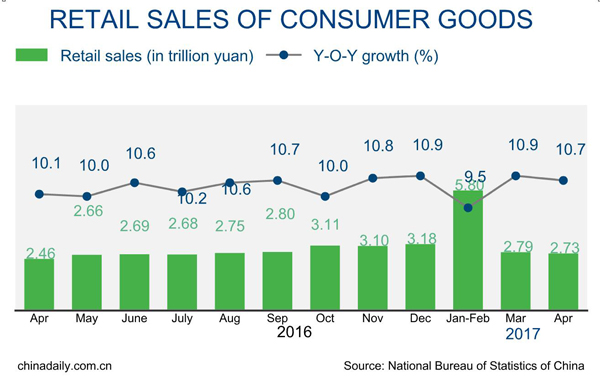 China's industrial output rose 6.5% YoY last month, compared to 7.6% in March. Fixed-asset investment excluding rural areas expanded 8.9% for the first four months.
Global Oil Prices Jump on Talk of Extending Production Cuts Oil futures rose sharply after energy ministers from Russia and Saudi Arabia said they would back an extension to global production cuts.
…to the end of March 2018. (…)

The latest data showed that while participants have been compliant with quotas, stockpiles have remained elevated.

Crude stockpiles in the most industrialized nations increased from the fourth quarter of 2016 by 31 million barrels to just over 3 billion—276 million barrels above the five-year average, said OPEC last week. (…)

Even if the production cuts are extended at next week's meeting, more oil is coming online from Canada, Brazil, Russia Kazakhstan and the U.S., notes Commerzbank. (…)

American drilling activity has risen for 17 weeks in a row, according to rig-count data from Baker Hughes . And last week, the U.S. government raised its domestic-production estimates for this year and next. (…)
Profit Growth Will Come From Overseas Foreign operations for U.S. companies will benefit from buoyant economies and with little wage pressure, boosting profit growth.
(…) But the U.S. accounts for only about 44% of the sales at the companies that comprise the S&P 500, according to S&P Dow Jones Indices. The rest comes from overseas, and the profits outlook there is stronger.

Growth outside the U.S. appears to be picking up, there is still plenty of labor-market slack in many countries, and central banks are still a while off from raising rates.

Consider the euro area in particular, which according to the Commerce Department accounts for about 40% of the income generated by U.S. multinationals' overseas operations. Europe is growing more rapidly than the U.S., but its unemployment rate, at 9.5% in March, is much higher. Put simply, says Bank of America Merrill Lynch economist Ethan Harris, "the U.S. is running up against labor-supply constraints and Europe isn't."

That ought to translate into substantially stronger profits growth for U.S. multinationals' European operations. Workers aren't in a position to ask for raises and companies, which aren't running close to capacity, don't need to add new workers quickly to meet rising demand. An added bonus: The euro has been strengthening in recent months, which translates into higher dollar profits. (…)

The upshot is that the more business a company does overseas, the better its profit growth ought to be in the year ahead. So larger companies, which tend to have greater overseas exposure, might shine. The same is true of more globally exposed areas of the market, such as the technology sector. More U.S.-focused companies, such as retailers, and more broadly, small companies, could get left out.
Actually happening as this RBC chart shows: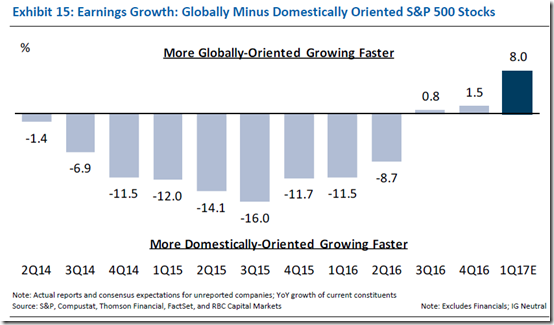 But many of these companies are commodity sensitive…
And note that Eurozone growth is actually not picking up all that much, is it?

EARNINGS WATCH
Factset's weekly summary:
To date, 91% of the companies in the S&P 500 have reported actual results for Q1 2017. Of these companies, 75% have reported actual EPS above the mean EPS estimate, 7% have reported actual EPS equal to the mean EPS estimate, and 18% have reported actual EPS below the mean EPS estimate. The percentage of companies reporting EPS above the mean EPS estimate is above the 1-year (70%) average and above the 5-year (68%) average.

In aggregate, companies are reporting earnings that are 6.0% above the estimates. This surprise percentage is above the 1-year (+4.3%) average and above the 5-year (+4.1%) average.

In terms of revenues, 64% of companies have reported actual sales above estimated sales and 36% have reported actual sales below estimated sales. The percentage of companies reporting sales above estimates is above the 1- year average (53%) and above the 5-year average (53%).

In aggregate, companies are reporting sales that are 1.0% above expectations. This surprise percentage is above the 1-year (0.0%) average and above the 5-year (+0.1%) average.

The blended (combines actual results for companies that have reported and estimated results for companies that have yet to report) year-over-year earnings growth rate for Q1 2017 is 13.6% today [13.5% last week]. If the Energy sector is excluded, the blended earnings growth rate for the remaining ten sectors would fall to 9.4% from 13.6%

The blended sales growth rate for Q1 2017 is 7.8%. If the Energy sector is excluded, the
blended revenue growth rate for the index would fall to 5.9% from 7.8%.

At this point in time, 90 companies in the index have issued EPS guidance for Q2 2017. Of these 90 companies, 61 have issued negative EPS guidance and 29 have issued positive EPS guidance. The percentage of companies issuing negative EPS guidance is 68%, which is below the 5-year average of 74%.
Recent guidance is heavily influenced by IT and HC. The other 9 sectors show 38 negative and 7 positive. Three months ago for Q1, it was 32-8. Twelve months ago for Q2'16: 35-9.
Guidance being slightly more negative, Q2 estimates are being revised downward. While total S&P 500 EPS have been ratcheted down from 8.6% to 6.8% growth, 8 of the 11 sectors have seen their average estimated growth rate cut by more than half from +3.8% to +1.8%. But who believe these anymore when beats exceed 6%?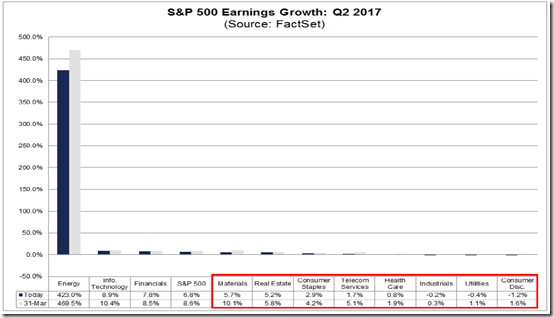 Still, 3 sectors are now forecast to show negative growth in Q2. Even the dependable HC and CS sectors are only expected to grow EPS by +0.8% and +2.9% respectively.
Trailing 12-month EPS are now $122.85, up 3.6% from their level after Q4'16 and up 7.8% from their mid-2016 low. Inflation has declined from +2.2% to +1.9%. As a result fair value per the Rule of 20 is now 2224, up 6% from earlier this year, about in line with the actual S&P 500 Index.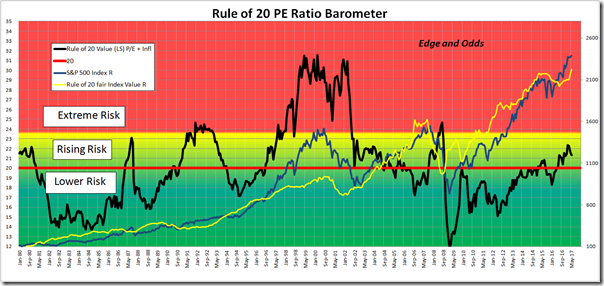 Economic surprises are not helping sentiment…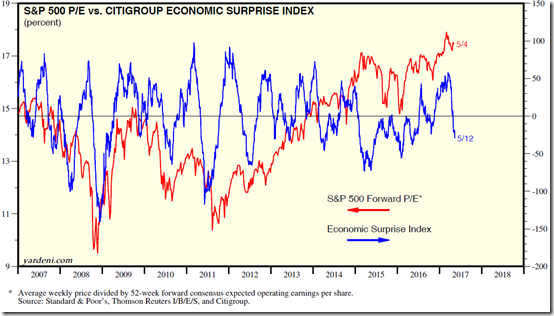 …even though…

But, under the radars, some people seem to care. The bulls keep running but are increasingly out of breadth as David Rosenberg's chart reveals. This is not a robust market.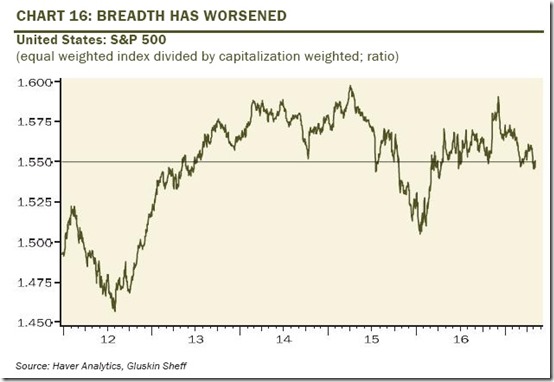 UNPAID MARKETING
The equal-weighted S&P 500 Index happens to support my equity stances largely based on the Rule of 20:
Deflating Equities in February 2015 was not a bad call on a risk/reward basis.
If you enjoyed this article, Get email updates (It's Free)