Housing starts remain soft. During April, total starts declined 2.6% to 1.172 million units (AR) from 1.203 million in March, revised from 1.215 million. It was the lowest level of starts since November. Expectations had been for 1.250 million starts in the Action Economics Forecast Survey. The overall decline reflected a 9.2% drop in multi-family starts to 337,000 (-15.1% y/y) following three consecutive months of sharp decline. Over the four months, multi-family starts are down 26.7%. Starts of single-family units improved 0.4% to 835,000 after a 5.1% decline during March. (…)

Building permits slipped 2.5% (+5.7% y/y) to 1.229 million units, the second decline in three months. Permits to build single-family homes fell 4.5% to 789,000 (+6.2% y/y), the third decline in four months. Permits to build multi-family units increased 1.4% (4.8% y/y) to 440,000, the highest level in three months.
Industrial production—a measure of output at factories, mines and utilities—jumped 1.0% from a month earlier, the Federal Reserve said Tuesday. That was the largest gain in more than three years. (…)
Overall, a decent report (table from Haver Analytics)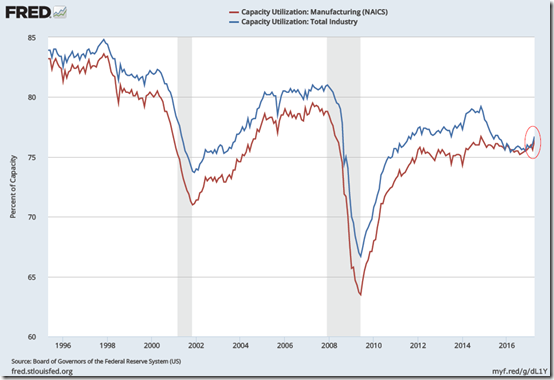 Sales for Europe as whole fell by 8.7% in April and now only rise by 0.6% over 12 months. However, if we smooth the series and calculate everything from three-month averages, the April (plus May plus June) drop is -3% (from March plus February plus January); the change from the three-month average of one year ago is a gain of 2.2%. That is an attempt to not over-weight or over-react to one month's weak report. But we will want to keep an eye on auto sales. Auto sales, as the chart shows, have weakened while retail sales continue to push higher. The chart is executed in terms of levels of real sales (for retail sales) and unit sales (for autos). Retail sales continue to mark new post-recession financial crisis highs. But auto sales are now stalling and the stall is not just this month's large set-back. Sales have started to gyrate more seriously over the past year, losing momentum. (…)
EQUITY VALUATION
Here is the Credit Suisse model for large caps.
Source: Credit Suisse (via The Daily Shot)
CONFIDENCE ERODING
!!! Q1 is supposed to be a seasonal aberration, but Q2 looks problematic as well:
Source: Capital Economics (via The Daily Shot)
Driven by slower business formation and housing investment, Morgan Stanley's US "macro" index has also deteriorated.

Source: Morgan Stanley, h/t Tom (via The Daily Shot)
And this growing cloud: (WSJ)
Loose Lips Sink Presidencies The Russian intel story shows the price of Trump's lost credibility.
(…) News broke late Tuesday of Mr. Comey's contemporaneous notes that Mr. Trump asked him in February to "let this go," referring to the FBI probe of axed National Security Adviser Michael Flynn. The White House denied that account of the conversation, but that would be more credible if its previous statements were more reliable. (…)

If Mr. Trump can't discipline himself, then no Jim Baker ex machina will make much difference.

Mr. Trump needs to appreciate how close he is to losing the Republicans he needs to pass the agenda that will determine if he is successful. Weeks of pointless melodrama and undisciplined comments have depleted public and Capitol Hill attention from health care and tax reform, and exhaustion is setting in. America holds elections every two years, and Mr. Trump's policy allies in Congress will drift away if he looks like a liability.

Millions of Americans recognized Mr. Trump's flaws but decided he was a risk worth taking. They assumed, or at least hoped, that he'd rise to the occasion and the demands of the job. If he cannot, he'll betray their hopes as his Presidency sinks before his eyes.
If you enjoyed this article, Get email updates (It's Free)