Results from the May Manufacturing Business Outlook Survey suggest that regional manufacturing activity continued to expand this month. The diffusion indexes for general activity and shipments improved notably from their April readings. The indexes for new orders and employment, however, fell modestly from last month but remained at high readings. Although most of the survey's future indicators fell this month, the readings suggest that most firms still expect growth to continue over the next six months.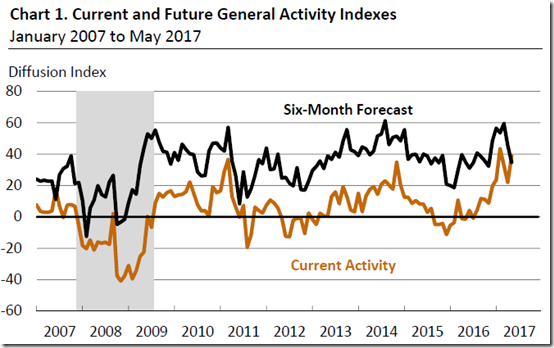 (..) The New York Fed report said total household debt rose by $149 billion in the first three months of 2017 compared with the prior quarter to a total of $12.725 trillion. (…)

As of the first quarter, about 68% of total household debt was in the form of mortgages; in the third quarter of 2008, mortgages were roughly 73% of total debt. Student loans rose from about 5% to around 11% of total indebtedness, and auto loans went from roughly 6% to about 9%. (…)

In the first quarter, borrowers with credit scores under 620 accounted for less than 4% of mortgage originations, compared with more than 15% a decade earlier. Borrowers with credit scores of 760 or higher had about 61% of originations last quarter, versus about 24% in the first quarter of 2007.

Auto loans have remained relatively available to subprime borrowers, helping fuel the record vehicle sales of recent years as interest rates have been low. About a fifth of auto-loan originations last quarter went to borrowers with credit scores below 620, down from roughly 30% a decade earlier.

Still, standards have tightened. The median credit score for auto-loan originations in the first quarter was 706, compared with 764 for mortgage originations. In the first quarter of 2007, the median scores were 678 for auto loans and 712 for mortgages.

Less than 5% of outstanding debt was delinquent at the end of the first quarter, little changed from late 2016, with 3.4% at least 90 days late, known as seriously delinquent. The overall seriously delinquent rate remains well below levels seen in the recession's immediate aftermath, though delinquencies have climbed recently for credit-card debt and auto loans and remain high for student loans, according to Wednesday's report.


Buyers With Excellent Credit Get Record Share of Mortgages

(…) This spring, China's all-important housing market, which supports around a quarter of the economy and props up the price of commodities like iron ore and copper, is also looking leaky. Prices gains in top tier coastal markets weakened last month for the first time since January. (…)

So-called tier one housing prices rose just 0.3% on the month in April, half the speed of March. (…)

Growth in medium- and long-term lending to households slowed for the second month in a row in April, notes China Economist Julian Evans-Pritchard at Capital Economics, after a massive ramp up over the past 18 months. (…)

For sure, price gains in April still accelerated in the lower tier Chinese cities which account for about 60% of the market. That will help shore up construction in the short run and support steel demand. Steel and cement output growth both rose in April, defying the overall trend of slower industrial growth. (…)
RULE OF 20
The Rule of 20 Fair Value is 2225, 5.6% lower. The 200-d m.a. is at 2253, still rising. The "120 Yield Spread" is at 144.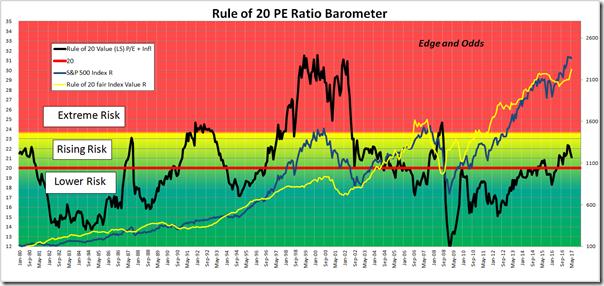 If you enjoyed this article, Get email updates (It's Free)