The world's auto production is expected to weaken further.

Source: @MorganStanley, @acemaxx, @josephncohen (via The Daily Shot)
(…) Iraq's peers are tolerating its breaches mostly because Saudi Arabia has slashed 35 percent, or 171,000 barrels a day, more than it needs to, according to OPEC data. As a result, the group met 96 percent of its target cut in the first quarter, an exceptional result given compliance with previous curbs has never before exceeded 80 percent, the International Energy Agency reported. (…)
EARNINGS WATCH
Factset's summary for Q1:
Overall, 95% of the companies in the S&P 500 have reported earnings to date for the first quarter. Of these companies, 75% have reported actual EPS above the mean EPS estimate, 7% have reported actual EPS equal to the mean EPS estimate, and 18% have reported actual EPS below the mean EPS estimate. The percentage of companies reporting EPS above the mean EPS estimate is above the 1-year (70%) average and above the 5-year (68%) average.

In aggregate, companies are reporting earnings that are 6.0% above expectations. This surprise percentage is above the 1-year (+4.3%) average and above the 5-year (+4.1%) average.

The blended earnings growth rate for the first quarter is 13.9% this week, which is slightly higher than the earnings growth rate of 13.5% last week.

If the Energy sector is excluded, the blended earnings growth rate for the remaining ten sectors would fall to 9.7% from 13.9%

In terms of revenues, 64% of companies have reported actual sales above estimated sales and 36% have reported actual sales below estimated sales. The percentage of companies reporting sales above estimates is above the 1- year average (53%) and above the 5-year average (53%).

In aggregate, companies are reporting sales that are 0.8% above expectations. This surprise percentage is above the 1-year (0.0%) average and above the 5-year (+0.1%) average.

If the Energy sector is excluded, the blended revenue growth rate for the index would fall to 5.9% from 7.7%.

At this point in time, 101 companies in the index have issued EPS guidance for Q2 2017. Of these 101 companies, 68 have issued negative EPS guidance and 33 have issued positive EPS guidance. The percentage of companies issuing negative EPS guidance is 67%, which is below the 5-year average of 74%.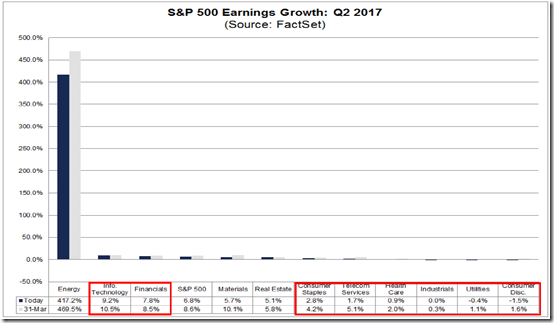 Note that Q2 guidance of 68/33 compares with 61/29 (neg/pos) at the same time after Q1. Excluding IT and HC whose combined guidance is 25/25, guidance is 43/8 vs 34/8 at the same time after Q1. Companies in Cons. Discretionary, Staples and Industrials have guided 26/5 for Q2'17 vs 20/6 for Q1'17 at the same period.
Unwinding the Trump bump: Wall Street
​At first investors were enthusiastic about the Trump administration, hopeful that it, and a Republican-controlled Congress, would cut red tape and taxes, and get the economy growing faster. American share prices, bond yields and the dollar all jumped after the election last November. However, as chaos has enveloped the White House, the "Trump bump" has been reversed—though not consistently across asset classes. The dollar has given up all of its gains, and more, since the election. Ten-year government bond yields have ceded 46% of their gains. But share prices have hardly retreated at all: the S&P 500 has surrendered only 8% of its gains. One explanation for this divergence is that investors are now less optimistic that the economy will grow faster, but still think big companies will cut costs and produce higher profits. That would be good for Wall Street but not Main Street. (The Economist)
Also unwinding (next 2 charts from Ed Yardeni):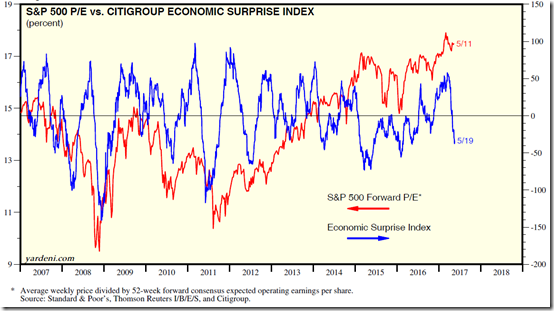 But not this one:

President Donald Trump plans to propose $1.7 trillion in cuts to a category of spending that includes major social and entitlement programs for lower-income Americans, as part of an effort to balance the budget within a decade. The White House will issue a formal budget request tomorrow that includes $274 billion in cuts over 10 years to means-tested anti-poverty programs, including food stamps, according to a Republican congressional aide and a White House document obtained by Bloomberg News.
The Quants Run Wall Street Now For decades, investors imagined a time when data-driven traders would dominate financial markets. That day has arrived.
(…) On many trading floors, quants are gaining respect, clout and money as investment firms scramble to hire mathematicians and scientists. Traditional trading strategies, such as sifting through balance sheets and talking to companies' customers, are falling down the pecking order. (…)

In just one sign of their power, quantitative hedge funds are now responsible for 27% of all U.S. stock trades by investors, up from 14% in 2013, according to the Tabb Group, a research and consulting firm in New York.

Quants have almost caught up to individual investors, which outnumber quants and collectively have 29% of all stock-trading volume.

At the end of the first quarter, quant-focused hedge funds held $932 billion of investments, or more than 30% of all hedge-fund assets, estimates HFR Inc. In 2009, quant funds held $408 billion, or 25% of all hedge-fund assets.

Quants got $4.6 billion of net new investments in the first quarter, while the overall hedge-fund business saw withdrawals of $5.5 billion. (…)

In the past five years, quant-focused hedge funds gained about 5.1% a year on average. The average hedge fund rose 4.3% a year in the same period. (…)

The next frontier: tapping data from drones and other cutting-edge sources to help understand companies and the economy in real time.

Quants are different from high-frequency traders, who tend to focus on very short-term trades that might last just milliseconds. High-frequency traders have been under pressure as market volatility dips and competition grows. (…)

Mathematician William Byers, who wrote the 2010 book "How Mathematicians Think," warns that rendering the world in numbers can give investors a deceptive belief that predictions churned out of computers are more reliable than they truly are. The more investors flock to complicated algorithmic models, the more likely it is some algorithms will be similar to one another, possibly fueling larger market disruptions, some analysts say. (…)

I am much closer to Warren Buffett when it comes to investing. I am happy to see that my returns far exceed both the quant and hedge funds returns over the past five years. Even more so when considering the much different risk levels. There is still hope for investing humans, even though our data scientist son thinks otherwise…
(…) Tech-focused mutual and exchange-traded funds have gathered new money for 11 consecutive weeks and have pulled in $8.7 billion on the year, according to Bank of America Merrill Lynch and EPFR Global. At the current pace, flows into tech funds would swell the group's assets by nearly one quarter this year, the fastest pace in at least 15 years. (…)

And popularity for tech is registering elsewhere. For instance, the PowerShares QQQ exchange-traded fund isn't explicitly at tech fund but is heavy in the sector. Within this ETF, Apple, Microsoft Amazon.com, Facebook and Alphabet represent nearly half of the ETF's weight. This ETF by itself has pulled in $1.2 billion in 2017, according to FactSet. (…)
NOW, THE MACRON RALLY:

Despite his charm and eloquence, Mr. Macron will have his hands full trying to create a parliamentary majority, not to mention dealing with France's notoriously belligerent labor unions which fight tooth and nail—or should that be hammer and sickle?—against even modest reforms. His presidency could turn out like the once-hopeful administration of Matteo Renzi in Italy (another boyish and engaging politician, but one who was unable to overcome his country's entrenched special interests). (David Hay, Evergreen Gavekal)
(…) The missile, while not designed to reach beyond most of the U.S. bases in South Korea and Japan, can be fired with almost no preparation time from the back of a mobile launcher, giving North Korea more stealth in its launches, as well as the ability to retaliate in the case of a strike against it, experts say. (…)

The declaration of success with the Polaris-2, which the U.S. calls the KN-15, comes just a week after North Korea launched a new missile, the Hwasong-12—which experts say is capable of flying 2,800 miles, more than enough to reach the U.S. base in Guam and farther than any weapon that North Korea has successfully fired to date. Both the Polaris-2 and Hwasong-12 are capable of carrying nuclear warheads, North Korea says. (…)
Is North Korea developing an EMP (Electromagnetic Pulse) to "fry the grid"?
(…) While EMPs can be caused by natural phenomenon, namely massive solar flares, scientists and military experts worry that one could also be generated through the detonation of a nuclear device. Late last month, the rogue state of North Korea launched what was widely thought to be another failure in a long list of missile tests. But, as with many other similar "failures", the medium range missile blew up at a height of 72 kilometers (or 45 miles) above the Earth. Coincidentally—or not—this is precisely the altitude that is believed to be optimal for taking out the unprotected electric grid, which is most of it.

If a detonated EMP had sufficient intensity, it could potentially "fry the grid", essentially short-circuiting the electrical infrastructure. This would, along with other catastrophic occurrences, shut down the internet. It doesn't take a tech savant to realize the economic devastation this would cause.

(…) recently, in a short letter buried on page A14 of the March 17th Wall Street Journal, Karna Small Bodman, Former Senior Director of the Reagan administration's National Security Council, outlined her concerns. The letter was titled Missiles Pose Dire Threat to Electricity Grid and, in it, she quotes the former head of the US Ballistic Missile Defense system who told her that in the event of a successful nuclear detonation in the upper atmosphere: "We would have no communications, computers, cell phones, refrigeration, sanitation, transportation…it would set us back to the year 1910."

Late last month, the Executive Director of the Task Force on National and Homeland Security, and Chief of Staff of the Congressional EMP Commission, Dr. Peter Vincent Pry, made the point that North Korea's missile mishaps are anything but failures; rather, they are successful practice exercises based on a former Soviet strategy from the Cold War era.

Even South Korean officials have warned that the world is failing to appreciate the significance of the these tests. On April 30th, officials told both The Korea Times and YTN TV that these were not failures, but rather tests to "develop a nuclear weapon different from existing ones." (…)

As North Korea conducts more "failed" tests, it will learn more about its ability to deploy and detonate high-altitude weapons with potentially dire implications for our infrastructure and economy. The result of a nuclear-armed North Korea might not be a cloud of smoke in the Pacific; rather, it might be a dazzling display of lights in the sky followed by complete darkness.
Philippines President Rodrigo Duterte said his Chinese counterpart had threatened him that Beijing would "go to war" if Manila begins drilling for oil in the South China Sea.

The inflammatory comments, mentioned offhand by the firebrand president during a speech Friday, come after the two countries have sought to reset ties after years of contention over conflicting claims in the South China Sea.

Mr. Duterte said he had told Chinese President Xi Jinping that the South China Sea "is ours and we intend to drill oil there. If it's yours, well, that is your view but my view is I can drill the oil."

The Philippine leader said Mr. Xi had told him that the two countries are friends. "We do not want to quarrel with you. We want to maintain a warm relationship but if you force the issue we will go to war." (…)
If you enjoyed this article, Get email updates (It's Free)