The National Activity Index from the Federal Reserve Bank of Chicago increased to 0.49 during April from 0.07 in March. It was the firmest reading since November 2014. The three-month moving average also strengthened to 0.23, its highest level since December 2014. During the last ten years, there has been a 76% correlation between the Chicago Fed Index and the q/q change in real GDP.

Performance amongst the component series was mixed during April. The Production & Income reading jumped to 0.46, also its highest level since 2014. The Employment, Unemployment & Hours figure rose modestly to 0.10 from 0.05, but remained below the February high. Weakening versus March was the Sales, Orders & Inventories figure which fell to 0.00, the weakest reading in three months. The Personal Consumption & Housing indicator deteriorated m/m and remained negative. The Fed reported that 46 of the 85 component series made positive contributions to the total last month while 39 made negative contributions.
Flash Eurozone PMI Composite Output Index at 56.8 (56.8 in April). Rate of growth unchanged.
Flash Eurozone Services PMI Activity Index at 56.2 (56.4 in April). 2-month low.
Flash Eurozone Manufacturing PMI Output Index at 58.4 (57.9 in April). 73-month high.
Flash Eurozone Manufacturing PMI at 57.0 (56.7 in April). 73-month high.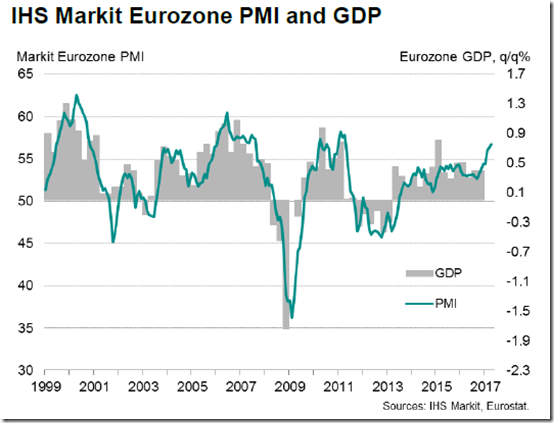 Overall new order growth waned slightly to the weakest in four months, linked to a mild moderation of inflows of new business into the service sector (albeit with growth still close to a six-year high). Manufacturers enjoyed a boost from exports* rising IHS Markit Eurozone PMI and GDP at the steepest rate since April 2011.

With backlogs of work across the two sectors registering the second-largest rise in six years, firms again took on staff at a pace rarely seen in the survey's history in order to expand operating capacity. The overall rise in employment was the second-largest since August 2007, with manufacturing adding jobs at the steepest rate in the survey's 20-year history. Service sector job gains matched those seen in April, sustaining the best spell of employment growth that the tertiary sector has enjoyed since early-2008.

The upturn continued to be accompanied by strong price pressures. Average selling prices for goods and services rose at the second-fastest rate since July 2011, the increase falling just shy of March's recent peak. However, a mild easing in input cost inflation to a five-month low suggests some pressure may come off selling prices in coming months. (…)

The PMI data indicate that eurozone growth remained impressively strong in May. Business activity is expanding at its fastest rate for six years so far in the second quarter, consistent with 0.6-0.7% GDP growth. The consensus forecast of 0.4% second quarter growth could well prove overly pessimistic if the PMI holds its elevated level in June. (…)
Flash Japan Manufacturing PMI™ down to 6-month low of 52.0 in May (52.7 in April).
Flash Manufacturing Output Index at 52.9 (53.4 in April). Slowest growth for six months.
Job creation weakest since last November.
May's PMI data signalled a broad-based slowdown in growth of the manufacturing sector, with output, new orders and employment all rising at their slowest rates since last November.

Although growth is being maintained at a decent clip, reports of "wait-and-see" attitudes amongst clients, excess warehouse inventories and recent sharp rises in raw material costs all served to undermine expansion during the month.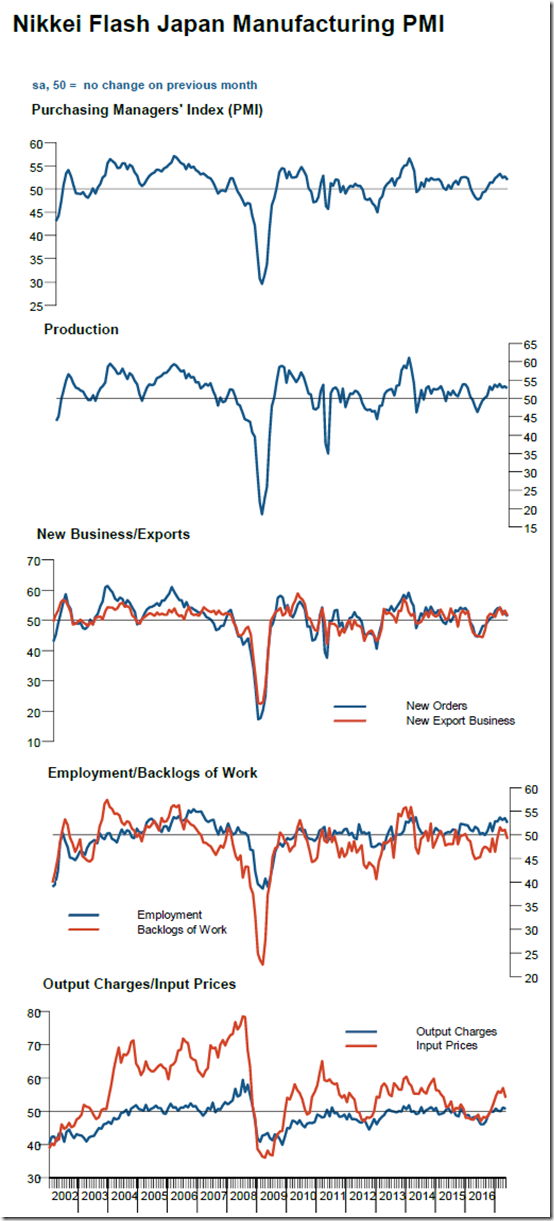 U.S. plan to sell oil reserves undermines OPEC supply management efforts U.S. President Donald Trump's proposal to sell half of the United States' strategic oil reserve surprised energy markets on Tuesday since it counters OPEC's efforts to control supply in order to boost prices.
The White House requested in its budget released late on Monday gradually selling off the nation's Strategic Petroleum Reserve (SPR) starting in October 2018 to raise $16.5 billion. The U.S. SPR SPR-STK-T-EIA holds 688 million barrels, making it the world's largest reserve, and a release of half over 10 years averages about 95,000 barrels per day (bpd), or 1 percent of current U.S. output. (…)
Larry Summers: A warning on Trump's budget The error of logic behind 'wildly optimistic' assumptions
(…) Apparently, the budget forecasts that US growth will rise to 3.0 per cent by 2021 because of the Trump administration's policies — largely its tax cuts and perhaps also its regulatory policies. Fair enough if you believe in tooth-fairies and ludicrous supply-side economics.

Then the administration asserts that it will propose revenue-neutral tax cuts, with the revenue neutrality coming in part because the tax cuts stimulate growth! This is an elementary double count. You cannot use the growth benefits of tax cuts once to justify an optimistic baseline and then again to claim that the tax cuts do not cost revenue. At least not in a world of logic. (…)

This is a mistake no serious business person would make. It appears to be the most egregious accounting error in a presidential budget in the nearly 40 years I have been tracking them. (…)
Earnings Season Over, the Insecurity Can Begin for S&P 500 Bulls
(…) When companies are reporting results, the S&P 500 Index is ahead, rising a net 910 points. When they aren't, the measure is up a paltry 17, data compiled by Bloomberg show. (…) With the next reporting season not starting until July, the vacuum leaves stocks with a greater susceptibility to shocks. (…)

All told, the index advanced 1.4 percent in the latest reporting period, preserving a perfect record of gains stretching back 18 quarters.

Stocks have shown a higher tendency to retreat outside earnings season. Since 2013, the S&P 500 fell in 8 out of the 18 times over the stretch when companies were done reporting. That compared with none in earnings season. (Bloomberg Briefs)
S&P Has Seen Almost All Gains When Cos. Report Results
If you enjoyed this article, Get email updates (It's Free)