U.S. new vehicle sales in May will be about 1.54 million units, compared with 1.53 million units, a year earlier.

The forecast was based on the first 17 selling days of the month.

The seasonally adjusted annual rate for the month will be 16.9 million vehicles, down from 17.3 million last year.

The consultancies cut new vehicle sales forecast for 2017 to 17.2 million units from 17.5 million units. (…)

The consultancies said consumer discounts averaged $3,583 per unit, a record for the month, surpassing the previous high for the month of $3,342, set in May last year.
Source: @bySamRo (via The Daily Shot)

Source: Goldman Sachs, @bySamRo (via The Daily Shot)
The agency last month estimated GDP growth at a 0.7% annual rate during the first three months of the year.

U.S. growth has averaged 2.1% a year since the recession ended in mid-2009. (…)

Forecasting firm Macroeconomic Advisers on Friday predicted GDP would expand at a 3.3% annual pace in the second quarter. (…)

After-tax profits, without inventory valuation and capital consumption adjustments, fell 0.3% from the fourth quarter but were up 11.9% from a year earlier.

The profits pullback came after four consecutive quarterly gains. The Commerce Department said first-quarter profits were depressed by legal settlements involving U.S. subsidiaries of Credit Suisse AG, Deutsche Bank AG and Volkswagen AG . (…)

Consumer spending, which accounts for two-thirds of U.S. economic output, rose at a 0.6% annual rate, up from an earlier estimate of 0.3% but down from fourth-quarter growth of 3.5%. (…)

Capital expenditures by U.S. businesses accelerated in the first quarter. A broad measure, fixed nonresidential investment, rose at an 11.4% annual rate, up from an earlier estimate of 9.4% and the fourth quarter's 0.9% growth rate. Business spending rose broadly, led by a dramatic 28.4% jump in spending on structures such as mine shafts and oil wells.

A major driver of the recent investment pickup has been a rebound in domestic energy production. (…)

Spending by federal, state and local governments contracted less than earlier thought in the first quarter, falling at a 1.1% annual pace versus a prior estimate of 1.7%. Residential investment jumped at a 13.8% pace in the first quarter, up slightly from the initial estimate and providing a solid boost to overall growth.

Net exports contributed 0.13 percentage point to the first quarter's 1.2% growth rate, while private inventories subtracted 1.07 percentage point. Both categories tend to be volatile from quarter to quarter.
New orders for durable goods declined 0.7% (+0.9% y/y) during April following a 2.3% March rise, revised from 0.7%. Earlier figures also were revised back to 2002.

The decline in durable good orders reflected a 1.2% fall in transportation bookings. They were pulled lower by a 9.2% drop (-27.5% y/y) in civilian aircraft orders. Defense aircraft orders gained 7.1% (-8.7% y/y) while motor vehicle & parts orders rose 0.3% (-0.0% y/y). (…)

Nondefense capital goods orders declined 1.9% (-2.6% y/y) while orders excluding aircraft remained steady (+2.9% /y) for the third straight month. (…)
"Steady" like in going nowhere for the 4th consecutive month: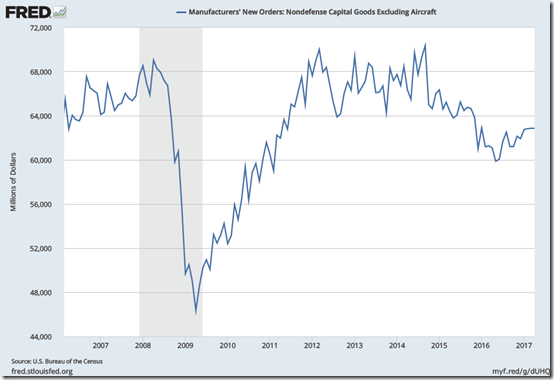 Credit Scores Hit Highs as Recession Wounds Heal More than six million U.S. adults will have personal bankruptcies disappear over the next five years, according to a recent report
(…) Wiping away such negative events also helps boost consumers' credit scores. Lenders rely on both the reports and scores when determining whether to approve consumers for loans and at what interest rates. (…)

The average credit score nationwide hit 700 in April, up one point from last fall, according to new data from Fair Isaac Corp. That is the highest since at least 2005. That was the year Fair Isaac, the creator of widely used FICO credit scores that range from 300 to 850, began tracking the data.

Meanwhile, the share of consumers deemed to be riskiest, with a score below 600, hit a new low of roughly 40 million, or 20% of U.S. adults who have FICO scores, according to Fair Isaac. That is down from 20.5% in October and a peak of 25.5% in 2010. (…)
The Oil Play That Could Flood the Natural-Gas Market The oil-rich Permian Basin also is emerging as a major new source of natural gas, a development that could deepen an existing oversupply of natural gas in the U.S. and pressure gas prices for years.
(…) Gas production in the Permian basin is likely to triple by 2020 from its 2010 levels, analysts say. The region is poised to rival new gas output from the Appalachia's Marcellus, the country's biggest gas producing region. (…)

Gas prices are down 13% year to date, with near-record production and tepid winter-heating demand leaving storage levels 11% higher than the five-year average.

Gas production in the Permian is expected to increase by 5.5 billion cubic feet a day from the end of last year to reach 12.5 bcf by the end of 2020, according to energy investment bank Tudor, Pickering, Holt & Co. in Houston.

The Marcellus, which has long been the fastest-growing gas field, is likely to add 6.1 bcf during the same period, not much more than the Permian, though its total production will be two times more than Permian by 2020. (…)

Oil wells nationwide are expected to generate another 9 bcf a day of natural gas over the next several years, nearly covering for all new demand, according to estimates from Tudor, Pickering and Macquarie Group. (…)

But because Permian drillers are after oil, gas prices could hit historic lows, probably as little as $1.50 a million British thermal units, before it stopped them from drilling, according to energy consulting firm Wood Mackenzie. (…)
EARNINGS WATCH
Factset's weekly summary:
Overall, 98% of the companies in the S&P 500 have reported earnings to date for the first quarter. Of these companies, 75% have reported actual EPS above the mean EPS estimate, 7% have reported actual EPS equal to the mean EPS estimate, and 18% have reported actual EPS below the mean EPS estimate. The percentage of companies reporting EPS above the mean EPS estimate is above the 1-year (70%) average and above the 5-year (68%) average.

In aggregate, companies are reporting earnings that are 5.8% above expectations. This surprise percentage is above the 1-year (+4.3%) average and above the 5-year (+4.1%) average.

The blended earnings growth rate for the first quarter is 13.9% this week, which is equal to the earnings growth rate of 13.9% last week. If Energy is excluded, the blended earnings growth rate for the remaining ten sectors would fall to 9.7% from 13.9%

In terms of revenues, 64% of companies have reported actual sales above estimated sales and 36% have reported actual sales below estimated sales. The percentage of companies reporting sales above estimates is above the 1-year average (53%) and above the 5-year average (53%).

In aggregate, companies are reporting sales that are 0.8% above expectations. This surprise percentage is above the 1-year (0.0%) average and above the 5-year (+0.1%) average.

The blended revenue growth rate for Q1 2017 is 7.7%. If the Energy sector is excluded, the blended revenue growth rate for the index would fall to 5.9% from 7.7%.

At this point in time, 109 companies in the index have issued EPS guidance for Q2 2017. Of these 109 companies, 73 have issued negative EPS guidance and 36 have issued positive EPS guidance. The percentage of companies issuing negative EPS guidance is 67%, which is below the 5-year average of 74%.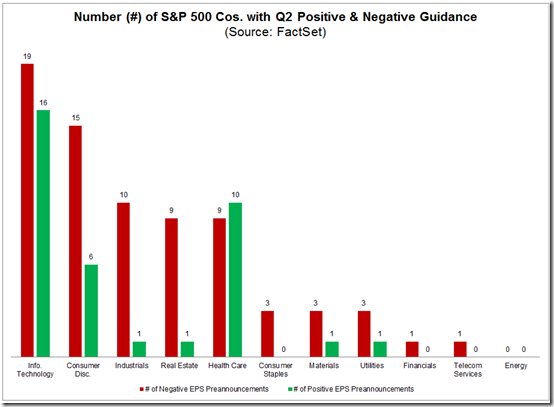 Excluding IT and HC which have combined neg/pos of 28/26, Q2 guidance is 45/10, 82% negative. The 6 consumer-centric sectors are expected to post EPS growth of only 0.6% on average in Q2:
GOP Bid to Rewrite Tax Code Stalls Over How to Offset Cuts Republicans started 2017 with high tax-policy ambitions, seeing an opportunity to use unified control of government to achieve a long-running party goal. But bold ideas for changing the nation's tax code are either dead or on political life support.
(…) The only big revenue-raising provision with anything close to Republican consensus is repealing the deduction for state and local taxes, and that idea faces objections from blue-state lawmakers in the party. (…)

President Donald Trump said on Twitter late Sunday that the process was ahead of schedule and "moving along…very well."

But a fruitless revenue quest may lead the GOP to second-tier options. And they won't be able to rely on generating lots of revenue from economic growth, because congressional scorekeepers are likely to make conservative estimates.

One possibility is a temporary tax cut that would expire to comply with rules preventing long-run deficits.

"Permanent is better than temporary, and temporary is better than nothing," Treasury Secretary Steven Mnuchin told the House Ways and Means Committee last week.

Another path is settling for a 25% corporate rate instead of the 20% backed by House Republicans or the 15% proposed by Mr. Trump.

"I hope we don't have to," said Rep. Kevin Brady (R., Texas), chairman of the House Ways and Means Committee. (…)

Rewriting the tax code is a process, Mr. Brady said. "If you expect that process to be smooth, and beautiful," he said, "it's not."
Just so you know, they effective corporate tax rate as per the U.S. national accounts averaged 25.8% in the last 3 years.
SELL IN MAY…
In the last 20 years, a $100 investment in the S&P from November through April would have become $343 while a $100 investment in May through October in the same years would have slipped to $98.5, according to Bespoke Investment Group, in Harrison, New York.

From 1928 to 2017 the $100 would have become $4,270 from November through April but would only be worth $257 from investing from May through October, according to Bespoke.
If you enjoyed this article, Get email updates (It's Free)