Personal income increased 0.4% during April following an unrevised March rise. The rise matched expectations in the Action Economics Forecast Survey. Wages & salaries jumped 0.7% (3.7% y/y) after holding steady in March. (…)

Disposable personal income increased 0.4% (3.7% y/y) following a 0.2% gain. A 0.2% rise in the price index left real disposable earnings up 0.2% (1.9% y/y), the weakest increase in three months.

Personal spending rose an expected 0.4% (4.3% y/y). The strongest rise in four months, it followed a 0.3% gain, revised from no change. When adjusted for higher prices, personal spending increased 0.2% (2.6% y/y) following a 0.5% rise. Real spending on durable goods surged 1.1% (7.0% y/y) after a 0.3% rise. Spending on motor vehicles & parts jumped 1.5% (4.5% y/y) after three consecutive monthly declines. (…)

The personal savings rate held a 5.3% for the third straight month. The March level was revised down from 5.9%. The level of personal saving declined 7.8% y/y.

Statistical revisions are going the right way.
Disposable income for Q1 was revised from +3.2% annualized (+2.4% in real terms) to +4.8% (+3.2%) with April up at a 4.8% annual rate (+2.4%).
Consumer expenditures for Q1 were revised from +0.8% annualized (–1.2% in real terms) to +2.0% (+1.2%) with April up at a 4.8% annual rate (+2.4%).
So, the U.S. consumer who looked pretty weak throughout the January-March period was actually o.k. after the revisions. Importantly, wages and salaries, which declined at a 3.2% annualized rate in Q4'16, jumped 6.0% annualized during the first 4 months of 2017. Go figure!
The Atlanta Fed's GDPNow forecast for the second quarter GDP remains optimistic, at 3.8%. (The Daily Shot)

Economic Outlook from Freight's Perspective – Cautiously Continuing to Improve
Both the Shipments and Expenditures Indexes have now been positive for four months in a row. (…) The 4.0% year-over-year (YoY) increase in the April Cass Shipments Index is yet another data point which suggests that the first positive indication in October may have indeed been a change in trend. In fact, it now looks as if the October Cass Shipments Index, which broke a string of 20 months in negative territory, was one of the first indications that a recovery in freight—or at least a change in trend—had begun.

Luxury retailer Michael Kors Holdings Ltd (KORS.N) swung to a fourth-quarter loss and said it would close between 100 and 125 full-price retail stores over the next two years. Net sales fell 11.3 percent to $1.03 billion in the fourth quarter ended April 1. (…)
The FTCR China Real Estate Index fell below 50 in May for the first time in four months as developers reported that tighter mortgage availability hit sales. The headline index fell 1.2 points month-on-month and was well below the average of 53.1 over the previous 12 months. (…)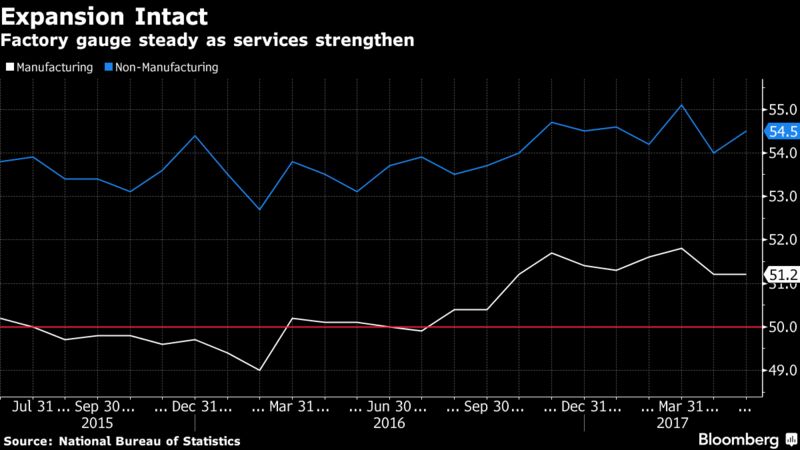 New orders were unchanged at 52.3 while new export orders rose to 50.7 from 50.6
The independent Markit PMI will be released tomorrow.
Eurostat said inflation in the 19 countries sharing the euro slowed to 1.4 per cent year-on-year from 1.9 per cent in April, slightly below market expectations of a 1.5 per cent reading.

The inflation measure which excludes the volatile energy and unprocessed food prices also fell to 1.0 per cent from 1.2 per cent, in line with economists expectations.

Pumping crude from seabeds thousands of feet below water is turning cheaper as producers streamline operations and prioritize drilling in core wells, according to Wood Mackenzie Ltd. That means oil at $50 a barrel could sustain some of these projects by next year, down from an average break-even price of about $62 in the first quarter and $75 in 2014, the energy consultancy estimates. (…)

Royal Dutch Shell Plc in February approved its Kaikias deep-water project in the U.S. Gulf of Mexico, saying it would break even with prices below $40 a barrel. That followed BP Plc's decision in December to move forward with its Mad Dog Phase 2 project in the Gulf, with costs estimated at $9 billion compared to $20 billion as originally planned.

Over the next three years, eight offshore projects may be approved with break-even prices below $50, according to a Transocean Ltd. presentation at the Scotia Howard Weil Energy Conference in New Orleans in March. (…)

Meanwhile in America's shale country, companies quickly reduced costs and improved productivity, driving break-even costs in the best parts of fields from Texas to North Dakota into the $30s. (…)
Funds tracked by Bank of America Corp. own the highest percentage of technology stocks on record compared to their benchmark. (…) Rarely ones to shun the herd, active funds are now 71 percent overweight in the FANG companies after making the biggest move from value to growth since 2008, according to Bank of America. (…)
Seven wonders: tech stocks
Quietly and inexorably, the "seven sisters" of the global technology industry are acquiring monster market values. Apple, Alphabet, Microsoft, Amazon and Facebook are the five most valuable firms in the world, and Tencent and Alibaba, their peers in China, aren't far behind. In total the seven companies are now worth an incredible $3.6trn, 40% more than a year ago and more than the combined value of all firms with a primary listing in Britain, the world's fourth-largest base for public companies, according to Bloomberg. Bulls argue that the tech platforms' huge increase in value reflects their rising profits. But their share prices have moved up faster than their earnings. As a result, together they trade on a price-earnings multiple of 34 times, up from 26 times a year ago. That is not quite bubble territory, but it is getting close. (The Economist)
Meanwhile, insider selling hit the highest level in seven years.

Source: archaeacap.com (via The Daily Shot)
If you enjoyed this article, Get email updates (It's Free)