The Index of Small Business Optimism fell 0.9 points to 103.6, but sustained the surge in optimism that started the day after the election.




The Bureau of Labor Statistics reported that the total job openings rate declined to 3.7% during May from 3.9% in April, revised from a record high of 4.0%. Despite the decline, the hiring rate improved to 3.7%, its highest level in nine months.

Declines in the job openings rate were broad-based. The private-sector job openings rate fell to 4.0%, the lowest level in three months and has moved sideways for two years. (…)

The actual number of job openings declined 5.0% from April's record high to 5.666 million. Private-sector job openings fell 5.2% (+1.6% y/y) led by a 23.0% decline (-17.6% y/y) in the construction sector which reversed the April increase. (…)

The rise in the overall hires rate to 3.7% reflected a jump in the private sector to 4.2%, the highest level since February of last year. The manufacturing hires rate surged to 2.7%, up from 2.2% nine months ago. (…)

The number of private-sector hires recovered 9.0% (7.6% y/y) to 5.143 million after a sharp April decline. (…)
Job openings and hires have flattened:
Worker confidence remains high:
Private sector quits rate highest in a decade
Wasn't that supposed to ignite U.S. wage growth and hence push up the overall inflation rate? As today's Hot Charts show, perhaps the lack of progress on wage growth (and the overall inflation rate) is because quits over the past several years have largely been in industries that do not require particularly high levels of skills. Industries such food services, hospitality and retailing have at their disposal a large pool of unused low skilled labour which they can cheaply tap into to replace departing workers. (…) (NBF)
Canada Braces for Its First Rate Increase in Seven Years The Bank of Canada is widely expected to raise its benchmark policy rate for the first time in seven years, signaling the Canadian economy is on the path to recovery after years of tepid growth following the global slump in commodities.
OPEC Output Rose in June Despite Planned Cuts The Organization of the Petroleum Exporting Countries produced more crude oil in June despite efforts to cut output and alleviate the global oil glut.
OPEC's output rose by roughly 1.4% to 32.61 million barrels a day in June, compared with May, led mainly by production increases in Libya, Nigeria, Angola, Iraq and Saudi Arabia, according to OPEC's closely watched monthly market report.

OPEC's members and 10 producers outside the cartel first agreed last November and December to cap their production at around 1.8 million barrels a day lower than October 2016 levels. OPEC averaged 33.64 million barrels a day last October, according to the cartel. (…)

Saudi Arabia told OPEC that its output was 10.07 million barrels a day in June—the first time it has exceeded the 10.058 million barrels a day limit it agreed to last year. The kingdom traditionally has high domestic oil demand in the summer that causes its output to rise. (…)
(…) President Donald Trump's key initiatives such as a health-care overhaul, tax cuts and fiscal stimulus are less likely to win approval before the 2018 mid-term elections as controversies build, Ivascyn said.

"We're becoming a bit more cautious about the possibility of meaningful legislation," Ivascyn said Tuesday in a telephone interview from his office in Newport Beach, California. "These types of distractions are just going to make it even more difficult to gain consensus." (…)
Most Republicans Say Colleges Hurt America The share of Republicans who think the institution of higher education is bad for the country has shot up in the past two years.
The conclusion, from a Monday report by the Pew Research Center in Washington, based on a June survey of 2,504 adults, reflects a reversal from just two years ago, when 54 percent of Republican and Republican-leaning Americans said colleges and universities had a positive impact on the way things were going in the country. Now, 58 percent say the opposite: that higher education institutions are having a negative impact on the U.S. In 2015, only 37 percent of Republicans said that.

It's first time a majority of Republicans has said colleges are hurting the U.S. since Pew began asking the question in 2010. Just 36 percent of Republicans say colleges are benefiting the country. (…)

The negative sentiment among Republicans is widely shared across various income, education and age groups—even 63 percent of Republican bachelor's degree holders say colleges are having an adverse impact—with just three exceptions: Fewer than half of Republicans aged 18 to 29, those whose family income is less than $30,000, and those who identify as moderate or liberal members of the GOP felt that higher education institutions are damaging the country. (…)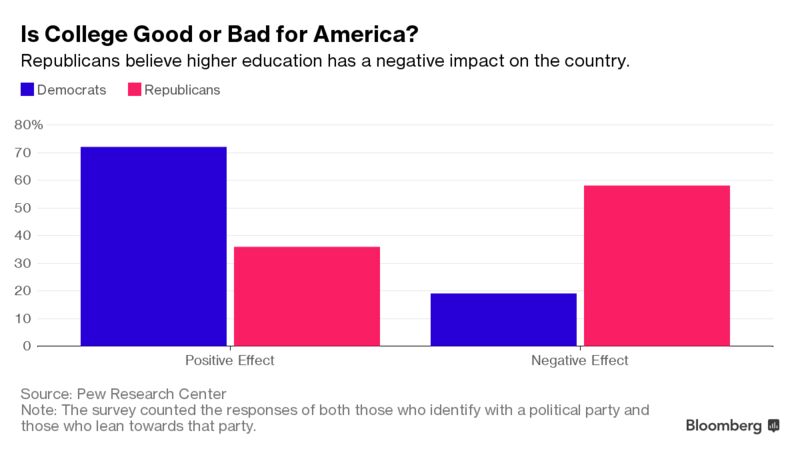 If you enjoyed this article, Get email updates (It's Free)