GOP Abandons Senate Health Bill, Plans Repeal Vote Senate GOP leaders abandoned their effort to dismantle and simultaneously replace much of the Affordable Care Act, after the defections of two more Republican senators.
House Republicans Set Out Plan to Rewrite Tax Code House Republicans are unveiling an ambitious fiscal plan on Tuesday that could let them pair a landmark tax bill with at least $203 billion in deficit-reduction measures.
The strategy, embedded in the House GOP fiscal 2018 budget, faces a host of political and procedural obstacles, including many of the same ones that derailed the party's health-care bill in the Senate. (…)

Most bills can be filibustered in the Senate and require a 60-vote threshold. What Republicans are trying to do is take advantage of an exception to that rule—the so-called reconciliation procedures allowed under budgetary law.

Under reconciliation, fiscally oriented bills can become law with a simple-majority vote in both chambers and a signature from the president. They can't increase long-run budget deficits and must hit fiscal targets set out by the budget. To get to that point, Congress must adopt a budget first, which means the House and Senate must agree twice, once on the budget and then again on the ultimate bill. (…)

Before they can advance the tax bill, the House and Senate must agree on the same version of the budget. The Senate Budget Committee hasn't yet released a budget or set a date. President Donald Trump doesn't need to sign the budget resolution; he would need to sign the subsequent bill into law.

The budget could change significantly in the Senate and it could also be revised to facilitate whatever tax agreement the House, Senate and White House agree on.
(…) For starters, the Trump administration will be selling a tax plan of its own, and, with luck, one precooked with congressional leaders, rather than hoping somebody else presents one that is acceptable. That alone would change the dynamic.

More broadly, the belief that it is essential to revamp the tax system to lower tax rates, especially corporate rates, is as close to gospel as you can reach in today's Republican Party. Nothing unifies the GOP like cutting taxes. (…)

That isn't to say changing the tax code is simple—not by a long shot. There certainly are intra-Republican differences.

Most notably, House Speaker Paul Ryan and Ways and Means Chairman Kevin Brady have long been pushing the idea of building a new tax system around a border-adjustable tax—a tax that essentially imposes a levy on imports while letting exports leave the country tax-free. The idea is to both build domestic industries and supply chains while also raising a big chunk of revenue to finance tax cuts elsewhere. (…)

There are plenty of other complications, including a debate about how much to cut taxes at the top end of the income scale. If tax reform were simple, three decades wouldn't have passed since the last significant one. And the prospect of finding Democratic support is nearly as bleak as it has been on health care.

Still, the fundamental idea of lowering rates and simplifying the tax code is one Republicans are almost desperate to rally around. If that holds true, we'll be left to ponder how different the story of Mr. Trump's first year might have been if Republicans had been able to start with an idea that united them rather than one that divided them.
White House Unveils Its Plans for Remaking Nafta The Trump administration released its road map for remaking the North American Free Trade Agreement that aims to preserve "Buy America" provisions and reduce the U.S. trade deficit, but steps back from some of President Donald Trump's most fiery campaign rhetoric on trade.
Global Trade's Evolution May Check Trump's Protectionism President Donald Trump has looked to make protectionism respectable again, but changes in the international economy and the institutions governing trade are acting as constraints on what he can achieve.
All Signs Point to a Cyclical Slowdown in Inflation Even as central bankers get more hawkish, the data show there's a change underway that the Fed is likely to miss.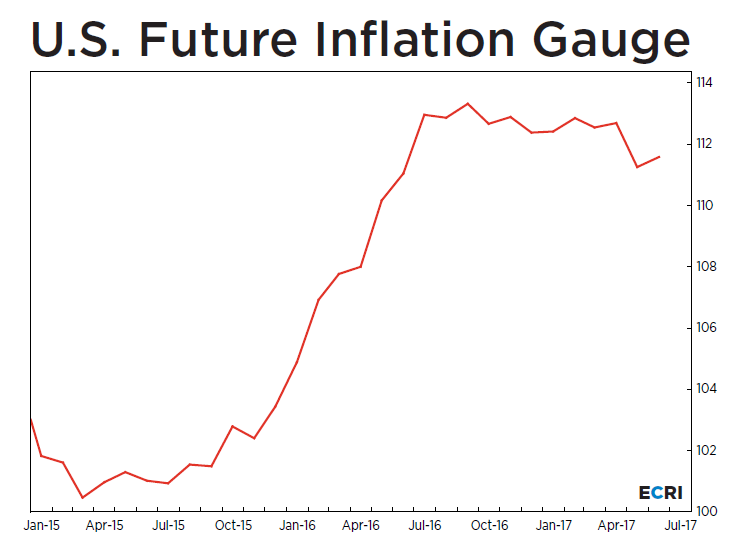 The Labor Department said on Tuesday that import prices decreased 0.2 per cent last month after an upwardly revised 0.1 per cent decline in May.

In the 12 months through June, import prices increased 1.5 per cent. That was the smallest gain since last November and followed May's 2.3 per cent increase. The year-on-year increase in import prices has slowed sharply since posting 4.7 per cent in February, which was the biggest advance in five years. (…)

Last month, prices for imported petroleum fell 2.2 per cent after decreasing 1.2 per cent in May. Imported petroleum prices have not risen since gaining 0.8 per cent in February.

Import prices excluding petroleum edged up 0.1 per cent after being unchanged the prior month. Import prices excluding petroleum increased 1.4 per cent in the 12 months through June.
Meanwhile:
The majority of the economic reports over the last two weeks have been disappointing, less than the consensus expectations. The minor rebound in activity we've been tracking since last summer appears to have stalled. Retail sales continue to disappoint and inventory/sales ratios are once again rising – from already elevated levels. Even the positive reports were clouded by negative undertones. So far though our market based indicators have not deteriorated sufficiently to create any urgency when it comes to recession. (…)

The ugliest reports of the last two weeks concerned consumption or rather the lack thereof. The retail sales report was disappointing no matter how one sliced and diced it. Like many of the other economic reports we track, the recovery in retail sales that started last summer is fading and fading fast. The popular notion that Amazon is stealing all the sales from traditional retailers cannot account for the overall weakness. Indeed, non-store sales are still rising but at a slower pace, showing that the slowdown isn't confined to bricks and mortar locations.

The weak consumption numbers are reflected in several other reports, most prominently inventory. Both wholesale and total business inventories rose faster than sales pushing inventory/sales ratios higher. In particular, auto inventories are probably way too high given that sales appear to have peaked. Inventory had been moderating relative to sales but the ratio is now rising again. That will be a positive for GDP in the short run but unwanted inventory will eventually have to be worked off before production ramps up again.

Weak consumption may also have been a factor in the weak inflation reports. Both PPI and CPI were less than expected and expectations for future rate hikes are fading. The trade report also confirmed weak US consumption and growth relative to the rest of the world with exports rising and imports falling. The result was the continued downtrend of the US dollar. (…)

The economic data has been lousy recently but the markets seem to be looking past that and toward improved global growth. The rest of the world certainly is due for an upturn if for no other reason than cyclicality. And that may indeed have a positive impact on US growth but right now the data is actually pointing to a peak in the mini cycle upturn that started last summer. For now, I see no reason to expect a recession imminently but neither do I see any reason to expect an acceleration in US growth.

It has never been wise to bet against the US consumer but I wonder if we might finally have reached peak consumption. Younger generations certainly don't seem interested in the conspicuous consumption of their elders. And it may be dawning on Baby Boomers – finally – that if they ever want to retire they are going to have to save more and consume less. Another thing I've noticed recently is that the quality of goods seems to have slipped considerably over the last few years. I find clothing in particular to be of very poor quality but I could say the same about a lot of other items as well. Even restaurant quality seems to have slipped especially at the big chains that all seem to be serving the same bland items. Maybe that has finally caught up with retailers as consumers balk at paying up to maintain an illusion of prosperity.

Consumption is the result of growth not the cause and it shouldn't be a surprise after all these years of weak growth that consumption is weak too. Especially when one considers the debt piled up to pay for much of our previous consumption. Our market indicators seem to be saying that growth in the rest of the world will be sufficient to maintain our current secular stagnation, new normal rate of growth. Maybe but that has never been the case in the past; the US is the dog that wags the tail of the global economy. Is it different this time?
If you enjoyed this article, Get email updates (It's Free)