CONSUMER WATCH
Sales at retailers and restaurants jumped 0.6% from a month earlier, the biggest increase since December, the Commerce Department said Tuesday. Excluding cars, sales rose 0.5%. (…)

Sales over the internet drove last month's increase, with spending at nonstore retailers growing 1.3%, the most since December. One big factor: Amazon's Prime Day, a popular day of discounts at the site.

Other retailers also posted strong gains. Car sales jumped 1.2%, as did spending on building materials and garden equipment. Sales at furniture outlets, grocery stores, restaurants and department stores all rose healthily.

Meanwhile, spending on gasoline, electronics and clothing fell. (…)
The May 2017 to June 2017 percent change was revised from down 0.2% to up 0.3%.
Median household spending growth expectations decreased from 3.3% in June to 2.8%. This series has been volatile, but the current reading is below its average of 3.2% for the most recent 12 months. The decrease was driven mostly by less educated (high school or less) respondents.
Restaurant sales dropped again in July, dealing a blow to an industry that had shown modest signs of improvement in recent months. Same-store sales were down -2.8 percent, a sharp 1.8 percentage point decline from June. The drop was disappointing in light of the -1.3 percent average comp sales for the first six months of the year and -1.6 percent recorded in the last half of 2016.

Same-store traffic declined -4.7 percent in July, a 1.7 percentage point drop from June. (…)

Calculated on a two-year basis, sales in July 2017 were down -4.2 percent compared with July of 2015. Same-store traffic was -8.7 percent for that same period. These are the weakest two-year growth rates in over three years, additional evidence that the industry has not reversed the downward trend that began in early 2015.
The restaurant industry's data are not as bad, as of June:
The official stats to June:

Part of the reason is that food-at-home prices have dropped significantly, widening the gap between eating at home or going out:

Eurozone Factory Output Slides Activity at the eurozone's factories, mines and utilities fell at its sharpest pace in 2017 during June, an indication that the economy may be settling down after an acceleration in growth during the first six months of the year.
The European Union's statistics agency said Monday that industrial production was 0.6% lower in June than in May, while being 2.6% higher than in the same month last year. The decline in output was the largest since December 2016, and more than the 0.4% forecast by economists. (…)

Of the eurozone's four large national economies, only Italy bucked the trend, recording a 1.1% rise in output, while Germany and France recorded declines of a similar magnitude and Spain was flat.

Across the eurozone, the June drop would have been larger if not for a 1.8% jump in energy output, as production of capital goods slumped by 1.9%, and of durable consumer goods by 1.2%.
Whatever line we look at above, the overall trend is not particularly strong, is it? (Eurostat pdf). Haver Analytics is not too worried:
Output appears to be on a steady track with a minor setback this month. The country level data for the EMU also show somewhat widespread declines in June after seeing a solid slate of advances in May. June appears to be a month in which output has slowed to reduce the overall pace of growth to something that is more sustainable rather than signaling a slowdown of any sort.
Meanwhile in the USA and China:




Shadow Fed is Glum on Stock Market Camp Kotok's fearless forecasters mainly see little change in economic and financial measures such as interest rates, GDP, bond yields and oil prices, but they are somewhat bearish on stocks.
(…) The predictions for core inflation, for example, averaged 1.9%, with a high of 3.2% and a low of 1%. In other words, the consensus expectation is for little change. Likewise, a marginal bond selloff will push yields on 10-year Treasurys to 2.57% and U.S. benchmark oil prices will be $50.20 a barrel or barely changed.

The one bold and surprising prediction is for a modest retreat in stocks over the next year. The forecasts for the S&P 500 were as low as 1800, a 27% drop from today's levels, while the average was just 2416. (…)
John Mauldin gives more info from the camp here.
WTI crude oil: $50.20 (but the range was all over the place, from $30 to $76)
S&P 500: 1,340, with surprisingly few really bearish views
Gold: $1,340, and while there were a few outliers in both directions, people were generally looking for a strong movement upward.
Dollars per euro: $1.14
US GDP: 2.12%, again with a very wide range, but interestingly, nobody was predicting a negative GDP or an outright recession.
Takeaway 1: Almost everyone expects a serious market correction before the end of the year. Most of the people I talked to were concerned about market complacency; and even if they were bullish, which many of them were, they were surprised that we've gone this long without a correction.

Takeaway 2: In talks with people I seriously respect, I found more concern about valuations and spreads in the bond market than about valuations in the stock market. As I sat with a few people and "war-gamed" what the next recession will look like, a general agreement emerged that the credit markets will be far more volatile than they were last time, even though banks are better capitalized today than they were 10 years ago. The problem is simply that credit markets have no liquidity and valuations are extraordinarily stretched. And not just in the US.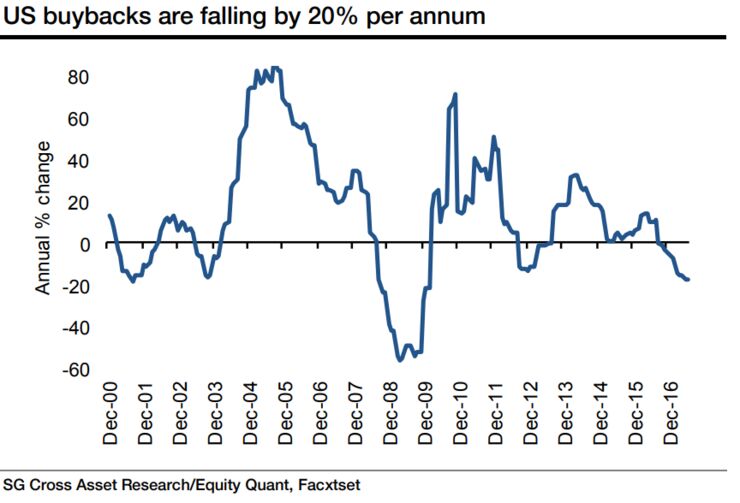 FULL CIRCLE: FROM BOOM TO BUST TO BOOM TO …
More than 675 luxury condo units are formally listed for sale at a minimum price of at least $1 million in the barrier island city of Miami Beach in the South Florida county of Miami-Dade, according to a new report from Condo Vultures® Realty LLC.

Based on luxury condo sales of nearly 22 units monthly in the first half of 2017, Miami Beach now has more than a 31-month supply of units available for purchase in the tricounty South Florida region of Miami-Dade, Broward and Palm Beach during this year's Summer Buying Season, according to the report based on data from the Southeast Florida MLS Matrix v7.0.

A balanced market is generally considered to have about six months of supply. (…)

It is worth noting this report only tracks those Miami Beach luxury condos formally listed for sale. The report does not factor in the nearly 47,700 new condo units currently in the development pipeline east of Interstate 95 in the tricounty South Florida region. (…)

Currently, about 31 Miami Beach luxury condo units are under contract waiting to transact – or pending – at an average asking price of about $4.1 million each or $1,537 per square foot, according to the statistics.

Between January and June of 2017, the average transaction price of a Miami Beach luxury condo was less than $2.5 million or $1,255 per square foot.

This means the current asking price of a Miami Beach luxury condo listed for sale is about 42 percent higher than the average transaction price achieved on a per-unit basis and nearly 22 percent higher than the average transaction price on a per-square-foot basis in the first six months of 2017.

In the first half of this year, the sellers who were able to unload their units needed about 180 days to transact a Miami Beach luxury condo listed for sale. The current Days-On-The-Market average for Miami Beach luxury condos listed for sale is about 226, according to the statistics.
(…) Mr. Frazier, who is African-American, and Mr. Krzanich and Mr. Plank, who are white, were three of the 28 business and union leaders the president named to the advisory council aimed at helping him boost U.S. manufacturing jobs. (…)

In June, Elon Musk of Tesla Inc. and Robert Iger of Walt Disney Co. resigned from advisory roles after Mr. Trump said the U.S. would withdraw from the Paris climate accord. (…)
The President's approval ratings hit a new low. (The Daily Shot)

Source: RealClear politics
A glut of low-cost solar panels in the U.S. is triggering an unusual fight over tariffsand environmental policy. The U.S. International Trade Commission this week will hear arguments over calls by bankrupt solar-panel maker Suniva Inc. for new barriers on imported solar cells. The WSJ's Erin Ailworth reports that Suniva's demand for tariff and other restrictions on foreign manufacturers has united disparate forces, including green-energy advocates and conservative free-trade policy groups that oppose the tariffs. Suniva says it's being crippled by cheap imports, mostly from Asia, that have pushed down prices. The imports have been a boon to U.S. solar installers, with the cheap prices spurring adoption of rooftop solar panels, but they've pushed Suniva to close factories in Michigan and Georgia and enter bankruptcy. A lawyer backing the petition says its "time to take a stand" against Chinese manufacturers on behalf of Suniva—which is majority owned by a company based in Hong Kong.
If you enjoyed this article, Get email updates (It's Free)