The Index of Small Business Optimism rose 0.1 points to 105.3 in August, basically unchanged from July. Five of the 10 Index components posted a gain and five declined.



Good piece in Larry Summers' blog who demonstrates that logic points to larger government in the future. Large tax cuts at this time would therefore aggravate the budget problem longer term.
First, the population is ageing and the federal government disproportionately takes responsibility for the aged.
Second, inequality has increased substantially. If one of the functions of the federal government is ameliorate inequality, it will experience pressure to expand to even partially offset rising inequality.
Third, the relative price of what the government buys has soared (…) with health and education costs rising faster than GDP.
Fourth, presumably our defence spending needs to be calibrated to some extent to the defence spending of our potential adversaries.
(…) Chief financial officer John Gerspach said at a banking conference in New York that Citi was expecting overall trading revenues to be down 15 per cent year on year in the three months to September 30, following a 5 per cent decline in the previous quarter. (…)

Citi was one of the better performers in the second quarter, when Wall Street's big five banks recorded an average fall of 17 per cent in trading revenues. (…)
(…) The big winners so far this year have been huge, fast-growing companies such as Amazon.com , Facebook , Apple and Google parent Alphabet . So while the S&P 500 has risen 11% so far this year, the S&P 500 Growth Index, which is concentrated in companies with strong earnings and revenue growth, has risen 17%. In contrast, the S&P 500 Value Index—which focuses on stocks with lower price-earnings, price-to-sales and price-to-book ratios—is up just 4%.

The 10 biggest stocks in the growth index have increased 26% this year, according to FactSet, adding about $900 billion to the S&P 500's market capitalization, which stands at about $23 trillion.

The gains for these stocks make sense for two reasons. First, investors tend to favor fast-growing companies in the latter stages of an economic expansion, which is where the U.S. economy is right now after eight years of growth. That is because it is harder to generate growth late in the cycle after the easy gains have been made, putting a premium on companies that still exhibit strong profit gains.

Second, many of the big companies leading the rally do a large portion of their business abroad, where many countries are experiencing economic upswings. Microsoft and Facebook, for example, both draw roughly half their sales from outside of the U.S. An added boost is the weaker dollar, which boosts the value of profits earned overseas.

For now, nothing seems likely to disturb this rosy scenario, which makes the gains self-reinforcing. Investors who want to beat the market need to plow cash into the shares of large-cap growth stocks. Passive investors who simply track the index are seduced by the market's healthy gains and low volatility, and they boost their investments, pulling the whole market higher. Those who chase performance will buy growth-oriented funds, which further drive these trends.

The love affair investors are having with big growth stocks could eventually set them up for big losses. Stocks of large, fast-growing companies have performed poorly when the economy starts to falter and the growth that investors were paying up for disappears. That was how the growth-stock driven rally of the late 1990s ended. In the six months that preceded the recession that began in March 2001, the S&P Growth Index fell by third—and then fell by another third before hitting bottom in mid-2002. It was a repeat of patterns seen in the 1960s.

What could cause the turn? A run of weak data or any event that makes investors question the U.S. economy's staying power. And if signs build up that an actual recession looms? History says it pays to get out fast.
Growth is outperforming value in all benchmarks, large, mid and small as this NDR chart shows: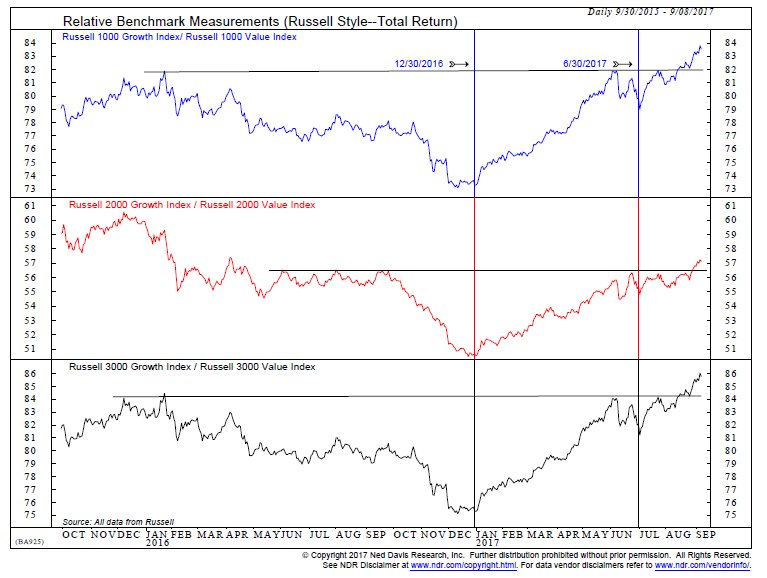 Generally, relative stock performance follows relative earnings performance. In Q2'17, earnings of globally oriented S&P 500 companies rose 11.1% vs +8.7% for domestically oriented companies. This outperformance has been present since Q3'16 but really accelerated in Q1'17.
Source: Natixis, @joshdigga (via The Daily Shot)
If you enjoyed this article, Get email updates (It's Free)