Tight Trucking Market Has Retailers, Manufacturers Paying Steep Prices Retailers and manufacturers grappling with an unusually tight trucking market are paying the steepest prices in years to keep their goods moving.
(…) By the end of last week, just one truck was available for every 12 loads needing to be shipped, according to online freight marketplace DAT Solutions LLC. That is the most unbalanced market since October 2005, after Hurricane Katrina, and is up from a roughly 4-to-1 ratio at the end of 2016.

Some companies are delaying nonessential shipments rather than scramble to find a truck. Others are paying a premium to ensure big rigs will be waiting at their warehouses when they need them. The cost to hire the most common type of big rig shot to $2.11 per mile, including a fuel surcharge, in the week ended Dec. 30, a 3½-year high, DAT said. (…)

Trucking companies are responding to strong demand by ordering more trucks. Fleets reserved 37,500 Class 8 trucks, the kind used on long-haul routes, in December, the most in a single month in three years, according to ACT Research. (…)

For example, in the past few weeks the price to ship freight between 500 miles and 750 miles has shot up 30% on some routes, said Dave Menzel, chief operating officer for Echo Global Logistics Inc., a brokerage. With stricter timekeeping, routes of that length might take two days instead of one, forcing companies needing next-day delivery to hire more-expensive team drivers, he said. (…)
THE PMIs
December data signalled a solid, but softer expansion in business activity across the US service sector. Moreover, the latest upturn eased to a seven-month low. In line with the trend in output, the rate of growth in new business volumes softened slightly. Meanwhile, backlogs continued to rise and the latest expansion was the fastest for four months.

Another solid rise in employment levels was linked to greater capacity pressures. On the price front, both input cost and charge inflation eased slightly. In line with softer business activity growth, the degree of optimism in the sector dipped to a 15-month low.

The seasonally adjusted final IHS Markit U.S. Services Business Activity Index registered 53.7 in December, down from 54.5 in November. The latest index was higher than the earlier 'flash' reading (52.4) and indicated a solid increase in business activity at US service providers. A number of panel members suggested the upturn was due to greater client demand and increased new order volumes. However, the overall rate of activity growth was the weakest since May and below the series trend.

New business received by service providers continued to increase in December, albeit at a softer pace than that seen in the previous survey period. Anecdotal evidence linked the rise in new orders to the acquisition of new clients and more favourable market conditions.

Meanwhile, the level of outstanding business at service sector firms rose further in December, with the rate of growth accelerating to reach a four-month high. Employment levels also continued to increase in December, as monitored firms reported a solid rate of job creation. Increased hiring was attributed to greater capacity requirements and the upturn in new order volumes. That said, workforce numbers rose at the softest pace since June.

Inflationary pressures eased in December, with both input price and charge inflation softening. The latest rise in cost burdens was attributed by panellists to higher fuel prices and staff salaries. Greater input costs were partly passed on to clients, as firms noted that average charges also rose solidly. Although the rate of inflation softened, it was above the series trend.

The final seasonally adjusted IHS Markit U.S. Composite PMI™ Output Index fell to 54.1 in December, down from 54.5 in November. Despite an accelerated upturn in manufacturing output, the composite index signalled softer growth following a slower expansion in service sector business activity.

The latest composite index figure was above the earlier flash reading (53.0) and indicated a solid end to 2017, despite output growth easing to a six-month low.

However, while moderating, the overall rate of expansion remains relatively robust, with the PMIs running at levels consistent with the economy growing at a solid 2-2.5% annualised rate in the fourth quarter.

Similarly, hiring, while also slowing slightly at the end of the year, continued to run at a pace indicative of non-farm payrolls up by around 195,000 in December as firms boosted capacity in line with rising demand. Price pressures meanwhile moderated but remained elevated by standards seen over the past three years.
Economic activity in the rest of the world is now outpacing the US. (The Daily Shot)

Source: TD Securities
The euro area economy gathered further growth momentum at the end of 2017, spurred on by a near-record expansion of manufacturing production and the steepest increase in service sector activity for over-six-and-a-half years.

The final IHS Markit Eurozone PMI® Composite Output Index posted 58.1 in December, up from 57.5 in November, to register its highest reading since February 2011. (…)

The trend in new business also strengthened in December. Manufacturers saw the steepest increase since April 2000, underpinned by improved domestic demand and near-record growth in new export orders. Service providers, meanwhile, registered the fastest increase in new work for over a decade. (…)

Rising new order intakes and an associated accumulation of backlogs of work encouraged firms to take on additional staff in December. The pace of job creation matched November and was the joint highest seen during the past 17 years.

Upward price pressures abated slightly in December, with rates of increase in input costs and output charges both easing for the first time in five months. The pace of inflation signalled for each price measure remained strong relative to their long-run trends, however, and among the steepest seen over the past six-and-a-half years.

Eurozone service sector business activity rose at the quickest pace for 80 months in December, underpinned by the steepest increase in new work for over a decade. At 56.6 in December, up from 56.2 in November, the final IHS Markit Eurozone PMI® Services Business Activity Index posted above the earlier flash estimate of 56.5. (…)

Companies mainly attributed higher activity and stronger new order intakes to improved economic conditions. Inflows of new work remained sufficiently robust to test capacity, leading to a further rise in work-in-hand at eurozone service providers. Outstanding business expanded for the nineteenth successive month, albeit at a weaker pace than in November.

The rate of job creation subsequently remained elevated, matching the previous survey's decade high. (…) Input price pressures increased in December, with the rate of cost inflation the highest for six-and-a-half years. Part of the rise was passed on to clients in the form of higher service charges. However, the pace of output price inflation eased for the first time in six months. (…)

The survey data are consistent with the quarterly rate of GDP growth accelerating to an impressive 0.8% in Q4, with no sign of momentum being lost as we move into 2018. (…)

Based on past experience, the extent to which demand appears to be outstripping supply for many goods and services suggests that inflationary pressures could continue to build in the coming months. A big question for 2018 will therefore be whether relatively high unemployment and spare capacity in many countries will continue to hold down pay growth and keep a ceiling on consumer price inflation; a reminder that many wounds from the global financial crisis and the region's sovereign debt crisis are still healing.
The Caixin China Composite PMI™ data (which covers both manufacturing and services) signalled a solid upturn in Chinese business activity at the end of 2017. At 53.0, the Composite Output Index picked up from 51.6 in November to indicate the fastest rate of activity growth for a year.

Steeper increases in activity were registered across both the manufacturing and service sectors during December. Notably, services companies recorded the quickest expansion in activity since August 2014. This was shown by the seasonally adjusted Caixin China General Services Business Activity Index rising from 51.9 in November to 53.9 at the end of the year. Meanwhile, manufacturing output increased at a pace that, though modest, was the strongest seen for three months.

Improved growth of services activity was widely linked to greater volumes of new business. Latest data indicated that services companies saw the strongest upturn in new orders since May 2015, with around 14% of monitored companies noting an increase. Manufacturers also signalled a steeper rate of new order growth in December. Moreover, the rate of expansion was the strongest seen for four months, with a number of panellists commenting on greater client bases and new product launches. As a result, composite new orders rose at the quickest pace since January 2013.

Services companies continued to add to their payroll numbers at the end of the year amid reports of rising business requirements. That said, the rate of job creation was similar to that seen in November and moderate. Employment at Chinese manufacturers meanwhile remained on a downward trend in December, though the rate of job shedding was the least marked for nine months. Consequently, staffing levels at the composite level was broadly unchanged, as has been the case in each of the past five months.

December data pointed to little pressure on capacity at services companies, with backlogs of work falling for the fourth month in a row. However, the rate of backlog depletion was marginal, as has been the case throughout the current sequence of reduction. In contrast, outstanding work rose solidly at goods producers, which in turn underpinned a modest rise in unfinished business at the composite level.

Average input costs faced by services companies in China increased at a solid and accelerated rate in December. Furthermore, the rate of inflation was the joint-quickest since February 2013 (on par with March 2017). Raw materials, transportation and salaries were all cited as having gone up in price in the latest survey period. Cost burdens meanwhile rose sharply at manufacturing companies, despite the rate of inflation softening to a four-month low. At the composite level, input prices rose at a marked pace that was unchanged from November.

Greater input costs prompted service providers to raise their average charges again in December. That said, the rate of inflation was little-changed from the previous month and moderate overall. Factory gate prices increased solidly, despite the rate of inflation softening since November. Therefore, prices charged for manufactured goods and services overall rose at a moderate pace that was slightly weaker than in the previous month.

Business confidence towards the 12-month outlook for activity improved across both the manufacturing and service sectors at the end of the year. Services companies expressed the greatest degree of optimism since June, while sentiment at manufacturers picked up from November's joint-record low. However, business confidence remained at a historically-subdued level overall.
Despite solid economic growth, euro-area inflation slowed to 1.4 percent last month from 1.5 percent, and the underlying rate unexpectedly failed to rise from a meagre 0.9 percent. (…)

A separate report showed Italian inflation unexpectedly slowed last month to 1 percent, the lowest level in a year. (…)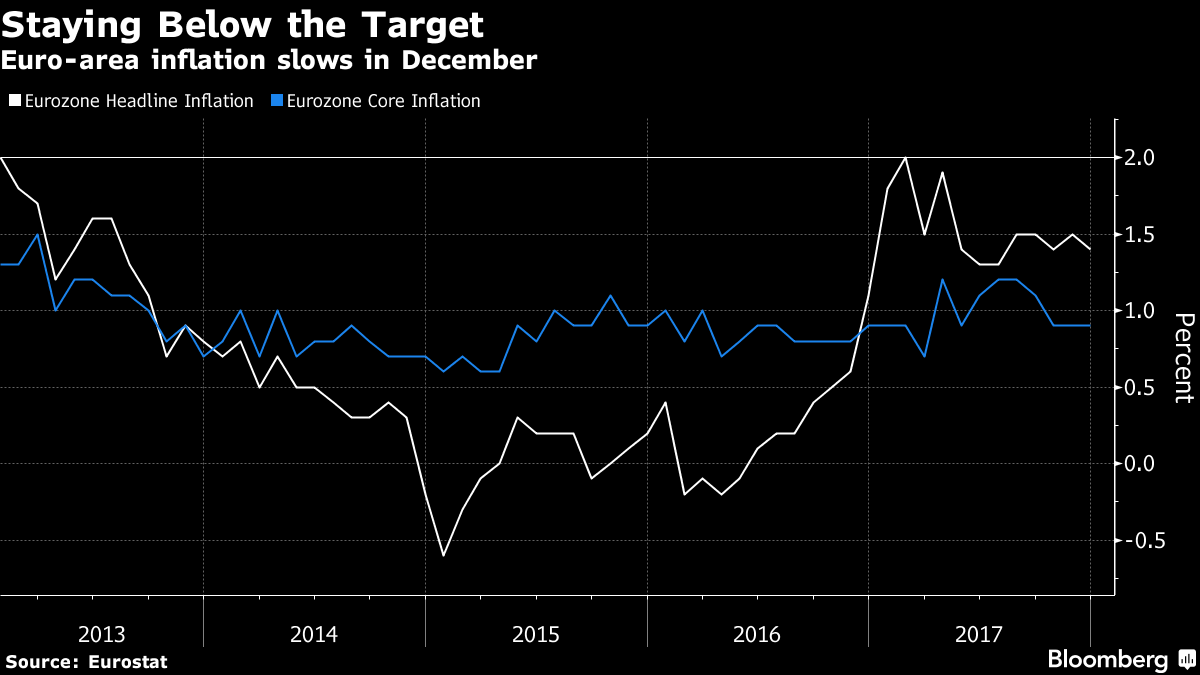 As Dow Tops 25000, Individuals Sit Out Rally The Dow Jones Industrial Average closed above 25000 for the first time. But one of the biggest surprises of the market's relentless rally is how many individual investors have run away from it.
(…) U.S. stock funds in aggregate have suffered outflows in each of the past three years, according to trade group Investment Company Institute, a sign of mounting skepticism about the stock market's steep climb. (…)

"No one is excited. This is not like 1999 and 2000, where you went to a bar and CNBC was on TV." (…)

Sixty-two percent of Americans reported owning equities, on average, between the fall of the dot-com bubble and the onset of the global financial crisis, between 2001 and 2008, according to a Gallup survey from early 2017. That number shrunk to 54% during the current bull market, from 2009 to 2017.

Declining stock ownership was consistent across education level, employment status, gender, ethnicity and U.S. region, the Gallup poll found. (…)

Surveys show that stock ownership is down among middle-aged investors who still feel the aftershocks of stock-market collapses after the dot-com boom and during the financial crisis. (…)

The most dedicated buyer of U.S. shares has been the companies themselves. Corporate stock buybacks started ramping in 2009, hitting a record of $572 billion in 2015, before leveling off, according to data from S&P Dow Jones Indices. With the new tax law cutting the corporate rate to 21% from 35%, many analysts expect companies will use at least some of that cash to buy back more of their own shares. (…)

For some Americans, their lack of interest in the stock market reflects a lack of disposable income, following a period of stagnant wages and mounting student debt that has more than doubled over the past decade. (…)
Buybacks don't seem to have been the main factor in last year's upward leg (chart from Ed Yardeni):
If you enjoyed this article, Get email updates (It's Free)