Import prices overall ticked 0.1% higher during December following a 0.8% November increase, revised from 0.7%. From December of 2016 to December of 2017, prices increased 3.0%.

The increase in import prices last month was led by a 2.0% rise (20.6% y/y) in petroleum prices following an 8.1% jump. Nonpetroleum import prices declined 0.2% (+1.3% y/y) and countered November's rise. The y/y gain reversed the decline in 2016. Industrial supplies & materials prices improved 0.7% (12.3% y/y) after a 4.0% strengthening. Industrial supplies prices excluding petroleum fell 0.3% (+7.1% y/y) following a 1.5% rise. Auto prices remained steady (-0.3% y/y) after a 0.1% uptick, while nonauto consumer goods prices eased 0.1% (+0.2% y/y) following no change. Capital goods prices held steady (0.7% y/y) after a 0.1% dip. Foods, feeds & beverage prices declined 0.7% (+0.6% y/y), the third consecutive monthly decline. (…)
The Mortgage Bankers Association reported that its total Mortgage Applications Volume Index strengthened 8.3% last week (2.9% y/y) following declines during the prior four weeks. Purchase loan applications rose 5.0% (0.3% y/y) following a 2.6% decline. Applications to refinance surged 11.4% (6.5% y/y) following four weeks of decline. (…)
China's Auto Market Slips Into Slow Lane—Except for EVs Chinese passenger-car sales grew at their slowest pace in at least 15 years, rising just 1.4% over 2016 levels, but sales of electric vehicles rocketed compared with the previous year.
(…) Sales of electric passenger cars rose 72% to 578,000—four times as many as the 144,000 sold in the U.S. last year. EV sales constituted just 2.7% of China's total auto sales, so they didn't make much of a dent overall.

China recorded sales of 28.88 million vehicles last year, according to figures released by the government-backed China Association of Automobile Manufacturers on Thursday.

That 3% increase was well off the 2016 pace, when sales overall grew 14% year-over-year and passenger-car sales jumped 15%. (…)

China managed to outperform the U.S., the world's second-largest car market, where sales shrank 1.8% last year to 17.2 million vehicles. China now accounts for nearly one-third of global auto sales, up from one-tenth in 2007. (…)

Chinese brands captured 44% of the local passenger-car market last year, the manufacturers association said, up from 43% in 2016. German brands had 20% of the market, ahead of Japanese (17%) and American (12%) rivals.(…)

The manufacturers association forecasts 3% auto-sales growth in 2018, while Bernstein Research forecasts 2.5% growth. Taxes are a contributing drag; an increase in China's auto sales tax from 5% to 7.5% at the start of 2017 hurt sales early last year, and a bump up to 10% introduced Jan. 1 is likely to dent first-quarter sales again. (…)

The central government will maintain its generous EV subsidies this year, though it still plans to end subsidies in 2020, by which time Beijing is targeting 2 million annual EV sales. (…)

China will sell 1 million EVs in 2018, the manufacturers association forecast. Demand has yet to catch supply, however; China produced 170,000 more EVs than it sold in 2017, the association said.
MEAN REVERSIONS
(…) The net worth-to-income (NW/Y) ratio—defined as household assets net of liabilities divided by personal disposable income—provides a valuation metric for a broad set of assets including debt, equity, and real estate weighted by the proportion in which they are being held by households. Similar to the P/E ratio, this ratio generally tends to revert toward its historical average and does not remain at extreme values, either high or low, for prolonged periods.

(…) Currently, the NW/Y ratio stands at a record high of about 6.7, compared with its average of 5.3 over a data sample starting in 1951. Figure 3 shows three episodes of high valuations: the dot-com boom in the late 1990s, the housing boom, and the current effects of the recent bull markets on various asset classes. (…) Consistent with the P/E ratio, the NW/Y ratio was at historically low levels in the 1970s to mid-1980s.

(…) the dot-com boom in the 1990s was primarily driven by a large increase in the prices of equities. The Great Recession of 2007–2009, however, was preceded by a run-up in real estate valuations, while equities contributed only to a minor degree. In contrast to those peaks, the currently elevated level of the NW/Y ratio is supported by multiple asset classes—equities, real estate, and pension and life insurance reserves. At the same time, households have decreased their level of liabilities relative to income since the financial crisis. This illustrates that the increase in asset prices is not being driven by household leverage.
A return to the mean would be pretty mean (MEAN MEAN REVERSIONS)
This one also always returns to the mean. We are all making history!
According to the RSI indicator, the Dow Jones index is the most overbought since 1904. (The Daily Shot)

Source: @tomkeene
The Citi Global Risk Aversion Index is tumbling as volatility across asset classes shrinks. (The Daily Shot)

Source: Bloomberg TV
This NDR chart is the source for the Investor Sentiment rating on the top sidebar. We are all making history! Note how prescient the investment crowd is. At levels above 66.0, the S&P 500 average return 12-m out is –2.9%. We are at 78.9!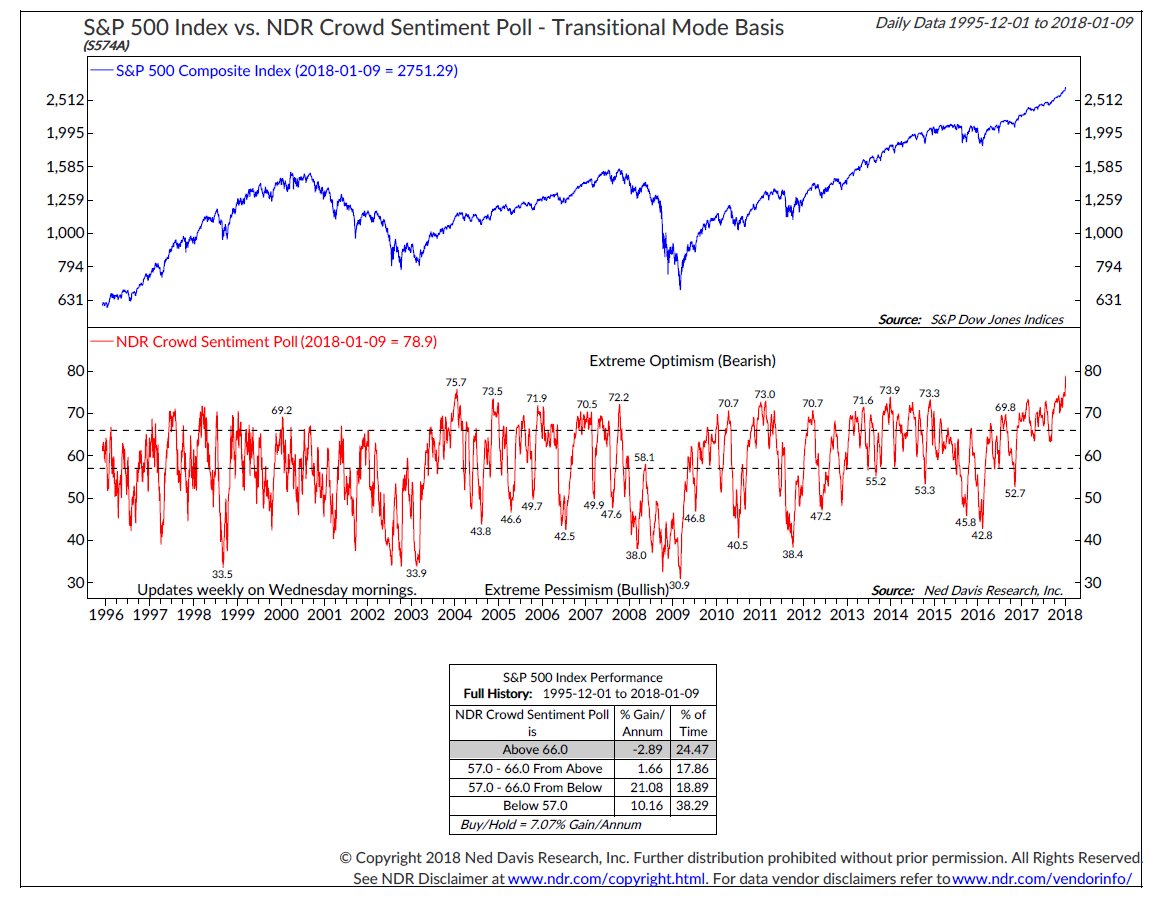 If you enjoyed this article, Get email updates (It's Free)