Retail sales increased a seasonally adjusted 0.4% in December from the prior month, the Commerce Department said Friday, matching expectations of economists surveyed by The Wall Street Journal.

The December sales growth was driven by increases in building material stores and online retailers, with both categories posting 1.2% month-over-month increases. Sales at nonstore retailers, mostly online-shopping outlets, rose 12.7% on the year. (…)

Retail sales had increased a revised 0.9% in November, and October sales growth also was revised higher. Sales in the fourth quarter as a whole increased 5.5% compared with the same period a year earlier. (…)

Total retail sales grew 4.2% in calendar-year 2017 compared with 2016, following annual increases of 3.2% in 2016, 2.6% in 2015 and 4.3% in 2014. (…)
Wow! U.S. consumers are spending like if a major tax cut is coming their way…Non-Auto ex gasoline sales rose 0.4% MoM in December on top of November's +1.2% and October's +0.5%. Last 3m annualized: +8.7%!!!
Given the trend in income, the savings rate will reach new lows in December. Should we worry about this recent reversal?

Finally, a Clearer Picture on Inflation Last year's bout of weak inflation figures really was transitory, just like Janet Yellen said
(…) Core prices were up 1.8% versus a year earlier, and even if inflation moderates, the annual figure will should be more than 2% by April.

The Fed would hardly count such a pickup in inflation as dangerous. What is important is that any doubts among Fed policy makers about inflation are in the past and Friday's report should make them a lot more comfortable with raising rates. (…)
The WSJ may see a clearer picture but it does not really share it with us, does it?
BloombergBriefs sees no change in inflation trends but also does not provide much real meat:
Inflation for core services trended sideways, while a pickup in the core goods category is unlikely to be sustained. Disappointing results recently in both import prices and the core PPI suggest that price pressures are not building in the inflation pipeline. (…)

The breadth of price weakness combined with the fact that auto demand appears to have plateaued — and will look particularly soft in January due to inclement weather — suggest that a new trend of a less-deflationary core CPI goods is not emerging.
Some real meat on inflation trends:

The UIG measures currently estimate trend CPI inflation to be approximately in the 2.2% to 3.0% range, with the prices-only measure close to the actual twelve-month change in the CPI.
The bond market is showing some inflation angst, although it's been darn wrong before:

The FT's John Authers thinks the bond market is wrong again:
Authers argues that:
The tax cut is largely going to companies which do not have the same strong propensity to spend as consumers do.
The new industrial orders are for equipment that should help boost productivity so this industrial boom need not be inflationary.
18% of American men between 21 and 30 who did not have a college degree last year did no work at all. "This large potential workforce, which may be occupying itself with video games, could yet deploy itself if the economy grows as expected and stop wages from rising."
(…) The BOJ owns more than 40% of outstanding government bonds, well above its central-banking peers, and branched out into stocks, which the Fed isn't allowed to buy. Under the stock-buying program, the BOJ has committed to buy ¥6 trillion ($54 billion) a year in exchange-traded funds covering most listed stocks. The program started in 2010 at less than one-tenth the current size and was ratcheted up by Mr. Kuroda since he took office five years ago. (…)

Mr. Kuroda has denied that the bank's stock purchases have caused market distortions. He has observed that the BOJ's holdings represent only a small portion of the overall Tokyo stock market—about 3% currently—meaning other investors can press individual companies for better governance. (…)
EARNINGS WATCH
From Thomson Reuters/IBES
Through January 12, 26 companies in the S&P 500 Index have reported earnings for Q4 2017. Of these companies, 76.9% reported earnings above analyst expectations and 11.5% reported earnings below analyst expectations. In a typical quarter (since 1994), 64% of companies beat estimates and 21% miss estimates. Over the past four quarters, 72% of companies beat the estimates and 19% missed estimates.

In aggregate, companies are reporting earnings that are 5.9% above estimates, which is above the 3.1% long-term (since 1994) average surprise factor, and above the 4.7% surprise factor recorded over the past four quarters.

84.6% reported revenues above analyst expectations and 15.4% reported revenues below analyst expectations. In aggregate, companies are reporting revenues that are 1.5% above estimates.

The estimated earnings growth rate for the S&P 500 for Q4 2017 is 12.1%. If the Energy sector is excluded, the growth rate declines to 9.6%.

The estimated revenue growth rate for the S&P 500 for Q4 2017 is 7.0%. If the Energy sector is excluded, the growth rate declines to 5.8%.

The estimated earnings growth rate for the S&P 500 for Q1 2018 is 14.8% [from +12.2% on Jan. 1] . If the Energy sector is excluded, the growth rate declines to 13.4%.
Full year earnings growth is now estimated up 14.5% from +12.0% on Jan. 1.
Trailing EPS now $131.71. Could rise to $135 after Q1'18 and $150 for all of 2018.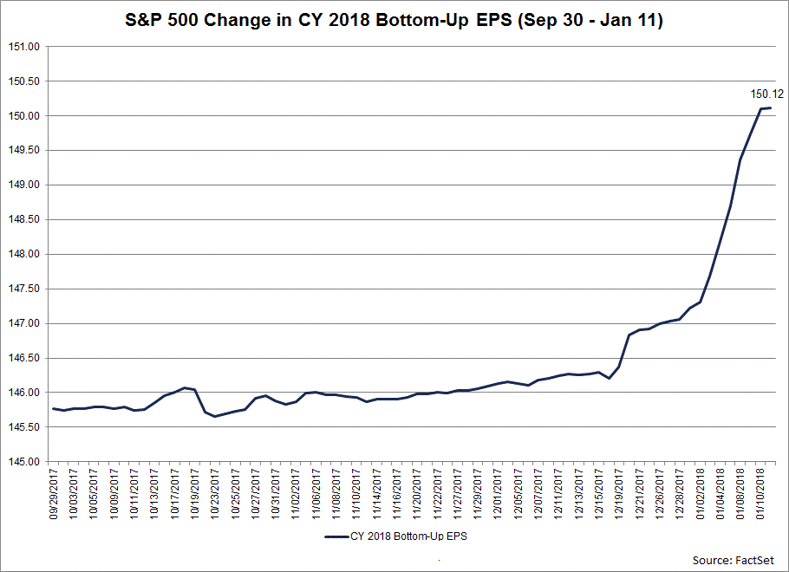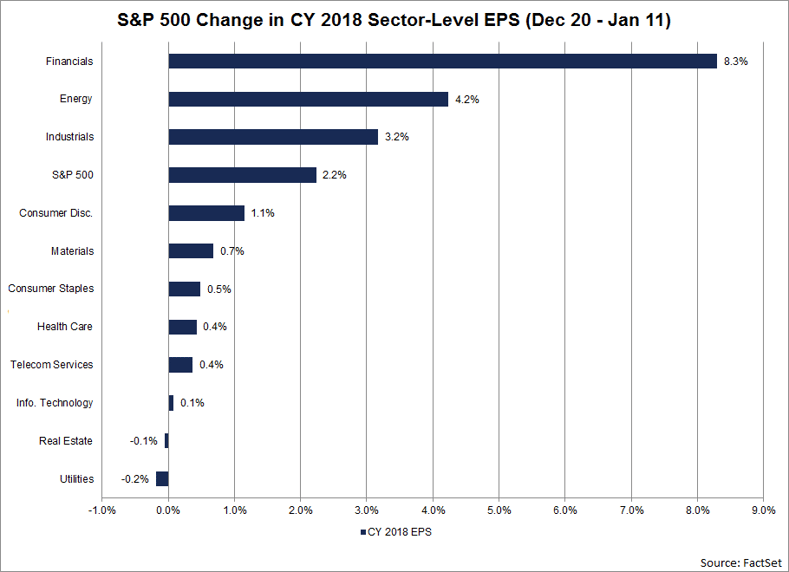 As expected, tax reform is already impacting earnings, even in Q4'17, as companies must adjust some balance sheet items to account for lower future tax rates while some others play games to optimize their overall taxes. The result is many one-time items which may or may not be included in operating results by various aggregators. Here's Factset's account of the Q4 results so far to be compared with TR's above:
In terms of earnings, companies are reporting actual EPS above estimates at a rate (69%) equal to the 5-year average. In aggregate, companies are reporting earnings that are 3.2% below the estimates, which is below the 5-year average. In terms of sales, more companies (85%) are reporting actual sales above estimates compared to the 5-year average. In aggregate, companies are reporting sales that are 1.4% above estimates, which is also above the 5-year average.

The blended (combines actual results for companies that have reported and estimated results for companies that have yet to report) earnings growth rate for the fourth quarter is 10.2% today, which is lower than the earnings growth rate of 10.7% last week. If the Energy sector were excluded, the estimated earnings growth rate for the remaining ten
sectors would fall to 7.7% from 10.2%.
Banks Are Upbeat as New Tax Law Muddies Earnings JPMorgan and Wells Fargo posted fourth-quarter earnings that were roiled by the recent tax overhaul but forecast the changes would bolster future profits and stoke the broader U.S. economy.
(…) JPMorgan , JPM 1.65% the biggest U.S. bank by assets, said a $2.4 billion charge related to the recently enacted tax law caused its profit to fall 37% from a year earlier to $4.23 billion. Even so, Chief Executive James Dimon said the tax law enacted late last year was "a big, significant positive and much of it will fall to our bottom line in 2018 and beyond." (…)

At Wells Fargo, the immediate impact of the tax law was a gain due to shrinking tax liabilities, which boosted net income by about $3.35 billion.

PNC Financial Services Group Inc., which also reported earnings Friday, similarly cited a tax-related boost to net income due to the declining value of tax liabilities. (…)
(…) The expected corporate job cuts add to around 10,000 store jobs being eliminated this month as Wal-Mart closes 63 Sam's Club locations, about 10% of the warehouse club's U.S. stores. (…)
Barron's Roundtable: Bright Outlook for Stocks Global growth and rising profits should keep the bull market humming. But keep an eye on interest rates.
The Periodic Table of Commodity Returns 2017 Explore how natural resources have performed over the last 10 years on the interactive chart