Rising Costs for Wages and Ingredients Pose New Challenge U.S. manufacturers and food companies are grappling with rising material and ingredient costs on top of pressure from higher wages—a potential double whammy that could force them to raise prices or accept lower profit margins.
(…) "We just see the inflation trends creeping in on many parts of our value chain," WhirlpoolCorp. Chief Executive Marc Bitzer told analysts recently. The Michigan-based appliance giant projected that additional raw-material costs, driven by rising prices of steel and resin, would shave as much as $250 million off its profit this year. (…)

The economic rebound is raising demand for materials like steel, aluminum and copper used to build everything from houses and office buildings to automobiles and smartphones. Prices of steel and aluminum could also rise for U.S. companies if the Trump administration imposes the tariffs it is considering for those metals.

Many companies, including auto maker Ford Motor Co. and heavy-machinery giantCaterpillar Inc., have pointed to rising material costs as a hurdle in the coming year. Some food wholesalers, retailers and caterers say they are contending with escalating costs for staples such as beef, vegetables and eggs that end up on supermarket shelves, in restaurants and corporate kitchens. Sysco Corp. , the world's largest food-service distributor, saw overall food inflation of more than 3% during its most recent quarter. (…)

B&G Foods Inc. CEO Bob Cantwell told a conference recently: "We're seeing the inflation that the rest of the industry is," referring to higher packaging as well as transport costs. Increased cargo shipments have led to a nationwide shortage of trucks, forcing many companies to pay more to transport goods or cut back. (…)

Paint maker Sherwin-Williams Co. said its outlook this year was tempered by industrywide raw-material inflation as high as 6%. Food distributor Performance Food Group Co. on Wednesday reported higher inflation for meat, eggs, and produce during its most recent quarter, and executives at the supplier to restaurants and other businesses expect food costs to continue to grow around 2.5% during the year. (…)

Current high corporate profit margins offer companies the capacity "to eat some of these price increases" rather than pass them on to customers, Mr. Moody said. (…)

3M Co. , the St. Paul, Minn.-based maker of myriad products including Scotch tape and industrial films and adhesives, has signaled it may raise its prices more than expected to offset inflation if it accelerates this year.

Most restaurant companies have been raising menu prices to help offset rising ingredient, labor and rent costs. For instance, McDonald's Corp. said its overall menu prices in the fourth quarter were up 3% from the year-ago period to help counter increased expenses and protect margins in advance of launching a new dollar menu. (…)
The proof is in the pudding!
Now this can help some:
That also:
China's inflation appears to be easing, with the CPI falling below that of the US.
But the weak USD and strong yuan are offsets: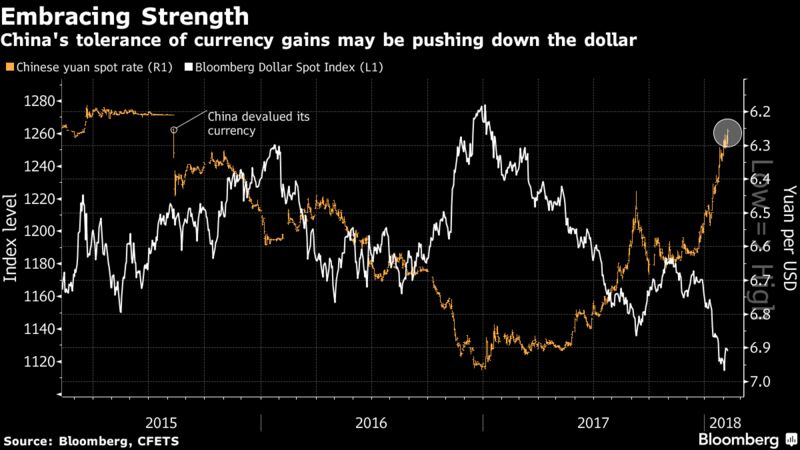 Canada's long streak of job gains finally ended in January
Employment plunged 88k in January, bringing an end to an impressive 17-month long streak of gains —the longest such stretch in 17 years — in what is normally a very volatile measure. The monthly drop in employment is eye-catching but still only retraced about 60% of the 146k increase over just the last two months. Other details also weren't as bad as the headline employment drop might suggest.

Part-time employment dropped a whopping 137k — the largest one-month decline on record — but fulltime jobs rose 49k. The unemployment rate ticked up to 5.9% but that was still just slightly above the 5.8% in December that matched the lowest reading on record since 1976. (…) (RBC)

(Bespoke)
Using Tax bill pro forma trailing EPS ($140.70) and current inflation (new data next week), at 2600 the S&P has returned to its "20" mean.

The veteran investor says that's because even more debt has accumulated in the global economy since the financial crisis, especially in the U.S. While Rogers isn't saying that stocks are poised to enter bear territory now — or making any claim to know when they will — he says he's not surprised that U.S. equities resumed their selloff Thursday and he expects the rout to continue. (…)
(…) Exchange-traded products based around the VIX ran into trouble when the gauge spiked on Monday and Tuesday morning, setting off an $8 billion time bomb with consequences for investors big and small who had sought to bet that low volatility could continue. The gauge reached as high as 50, compared with a 12-month average of just 11.3. (…)
"Aside from August 2015, there is no other volatility event over the last 40 years that would look remotely like the current one in terms of its profile if VIX continues to melt down from here," MKM derivatives strategist Jim Strugger wrote in a note Wednesday. (…)

From the NY Fed: