The Conference Board's Composite Index of Leading Economic Indicators rose 0.4% during November following an unrevised 1.2% jump during October. (…) Three-month growth in the index held steady at 7.0% (AR). (…)

The Index of Coincident Economic Indicators increased 0.3% (2.1% y/y) following an unrevised 0.3% October rise. Each of the component series, including industrial production, personal income less transfer payments, business sales and payroll employment, contributed positively to the index. Three-month growth in the index strengthened to 2.8% (AR), its best since January 2015.

The Index of Lagging Economic Indicators ticked 0.1% higher (2.4% y/y) last month following a 0.3% October rise, revised from 0.2%. (…) Three-month growth of 1.3% in the lagging index was reduced from 5.1% during the spring of last year.

The ratio of coincident-to-lagging indicators is often considered to be a leading indicator of economic activity. As economic slack diminishes relative to current performance, the ratio will rise. It improved last month to the highest level in six months.
The two important charts from Doug Short:
Canada's consumer-price index rose 2.1% on a year-over-year basis in November, Statistics Canada said Thursday, following a 1.4% advance in October. On a month-over-month basis, prices rose 0.3%.

Excluding gasoline, Canada's annual inflation rate climbed 1.5%, versus a comparable 1.3% in the previous month.

Underlying, or core, inflation also exhibited strength. Underlying prices rose in a range from 1.5% to 1.9%, based on the preferred gauges used by the Bank of Canada for an average of 1.7%, or the highest level in over a year. (…)

Retail sales surged in October by 1.5%, crushing expectations for a muted gain, on robust demand for vehicles and alcoholic beverages. (…)

(RBC Capital)
The European Union's statistics agency Thursday said consumer prices were 1.5% higher than a year earlier, a pickup from the 1.4% rate of inflation recorded in October and closer to the ECB's goal.

Excluding prices for energy, food and other volatile items, the core rate of inflation was unchanged at 0.9%.
(…) A recent survey by the National Association of Active Investment Managers found that even the most pessimistic mutual fund overseers are fully invested in stocks. Equity exposure rose to the highest level in data going back to 2006. (…)

A Goldman index tracking the most-shorted shares has climbed 18 percent since January, burning anyone on the wrong side. (…)

According to Morgan Stanley, unspent money is disappearing from individual brokerage accounts as the rally lures buyers, driving cash levels to a record low. Leverage among hedge fund managers who speculate on rising and falling shares is approaching its 2007 high. (…)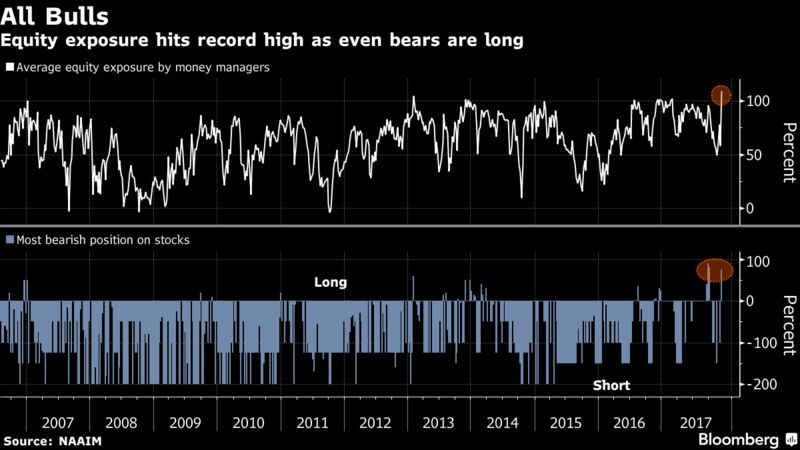 Source: topdowncharts.com
Happy Holidays !