Did you miss?
Breaking out of low-growth 'new normal' is on horizon (Mohamed El-Erian) Both backward-reading and forward-looking indicators confirm that the global economy is experiencing a pick-up in growth that is synchronised, real and multi-dimensional.
This synchronized growth "is being increasingly underpinned by fundamental economic forces" (pro-growth policies, ample liquidity "and, in Europe, an endogenous economic healing process have been the main contributors to the world's improved economic prospects.
Either we get "higher and more genuine growth that would validate elevated asset prices, facilitate the "beautiful normalisation" of monetary policies and reduce political tensions" or "recessions that would lead to financial instability, a higher risk of policy mistakes and greater political polarisation."
The better scenario "would also call for commodities to outperform" and higher bond yields.
"As 2018 evolves, we should expect higher multi-year growth to increasingly become part of the baseline for many projections."
Right on cue:
Bull market to run at least three more years, Goldman Sachs says
One-third of Canadians can't pay monthly bills as interest rates set to rise, survey suggests
The quarterly MNP consumer debt index survey finds the number of Canadians who can't cover their fixed monthly expenses is up eight points since September.

It also finds Canadians who are making ends meet have less disposable income, with an average $631 left after paying bills and contributing to debt repayment. That's 15 per cent less money left over than in the previous quarter.

The survey says Canadians worried more about their debt as the Bank of Canada raised its benchmark interest rate twice last year and is expected to continue the momentum in 2018.

Four-in-10 respondents say they fear financial trouble if interest rates rise much further and one-in-three agree they're concerned rising rates could move them toward bankruptcy.

More than 70 per cent of respondents say they'll be more careful with how they spend money as rates move up, and nearly half say they believe they'll have to take on more debt over the next year to cover expenses. (…)
This one-third group of Americans are likely facing the same outlook: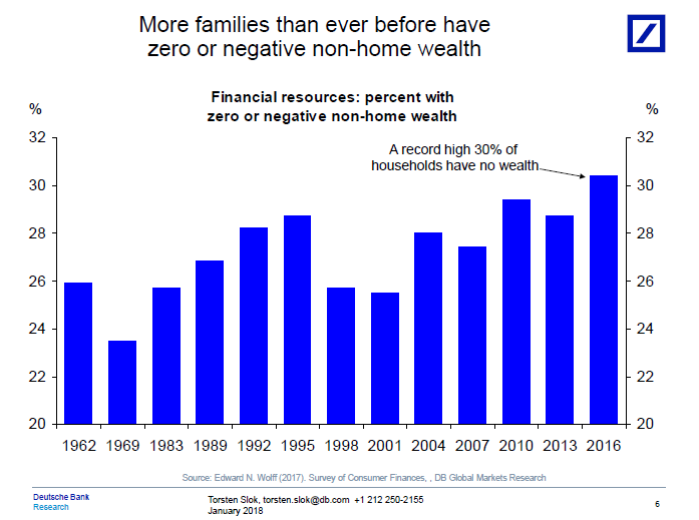 Battle Stations: U.S. and China Prepare for Trade Clash of the Titans A trade war between the U.S. and China would be more bruising and protracted than the battles that raged in the 1980s over Japanese exports, and would risk taking down the entire global trading architecture.
(…) In this brewing battle fueled by protectionists in both camps (Mr. Trump's "America First" finds its nationalist counterpoint in President Xi Jinping's "China Dream"), each side has an exaggerated sense of its own advantages. (…)
(…) The $350m "super PIK," or payment-in-kind bond, raised at the end of last week will pay a dividend to a group of shareholders in Ardagh Group, a one-time small Irish glass bottle maker that has grown in the past two decades into one of the world's largest metal and glass packaging companies.

PIK refers to bonds or loans that can pay their interest with further debt rather than cash. This means the size of the debt can balloon quickly and leave lenders with steep losses if the underlying company is not able to handle the growing burden.

While Ardagh listed on the New York Stock Exchange last year, 92 per cent of its shares are held privately, with its billionaire founder and chairman Paul Coulson the largest shareholder. It is these private shareholders that are receiving the dividend.

"In plain terms, the use of proceeds is essentially providing a 'margin loan' to legacy shareholders," noted analysts at credit research firm CreditSights. (…)
This is as bas as it gets. Ardagh borrows $350M and gives it to its shareholders. It will pay interest by issuing more debt. This super PIK was 7 times oversubscribed!
FYI, 81% of loans in Europe have been "cov-lite" in 2017 vs 21% in 2013 (WSJ Dec. 28, 2017). Anything to do with the ECB buying just about anything thrown at it?